On 11th February 2021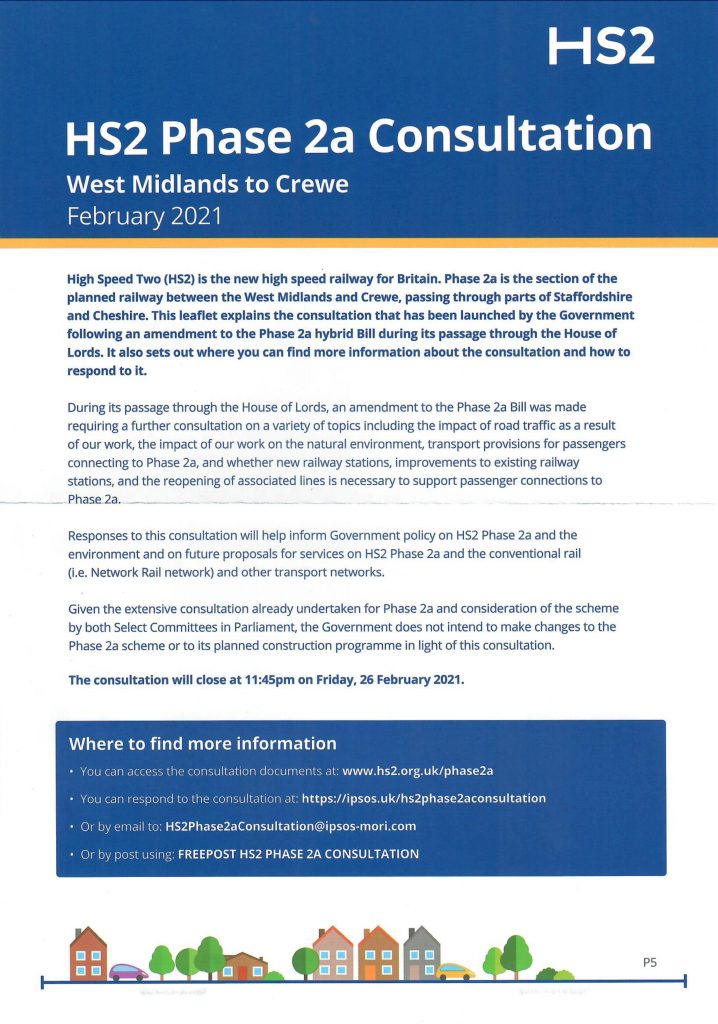 HS2 Rail Minister, Andrew Stephenson MP has told Michael Fabricant that HS2 did not ask him when issuing a leaflet consulting those affected by HS2 which contained a paragraph stating 'Given the extensive consultation already undertaken for Phase 2a and consideration of the scheme by both Select Committees in Parliament, the Government does not intend to make changes to the Phase 2a scheme or to its planned construction programme in light of this consultation' – negating the whole point of the consultation.
Michael asked the Rail Minister if he or his ministerial colleagues had authorised the contents of the leaflet issued to householders and businesses.
Andrew Stephenson has now replied: "No, Ministers did not have discussions with HS2 Ltd on the paragraph included in the Phase 2a consultation and leaflet prior to its publication.
"The leaflet published by HS2 Ltd did not accurately set out the purpose of the consultation and how responses will be analysed and considered. I have asked HS2 Ltd to send out an updated leaflet to those residents living within 1km of the route who received the first leaflet to make this clear, making clear that all responses will be carefully considered.
"The aim of the Phase 2a consultation is to help the Government understand in more detail the environmental impacts of the scheme on local communities as it takes the scheme forwards, and to identify and implement further mitigation measures. It will also help the Government better understand the concerns of local communities on their local transport provision. Once the responses are analysed the Government will publish a summary report and set out how it proposes to address the issues raised."
Michael now says "I am pleased that Andrew Stephenson has promptly instructed HS2 to issue a new leaflet and that the Government will take this consultation seriously. But this incident will have illustrated to Government, if any more were needed, how arrogant and crass HS2 are in their relationship with the general public they are meant to serve."
For background, see this News Release issued on 8th February 2021