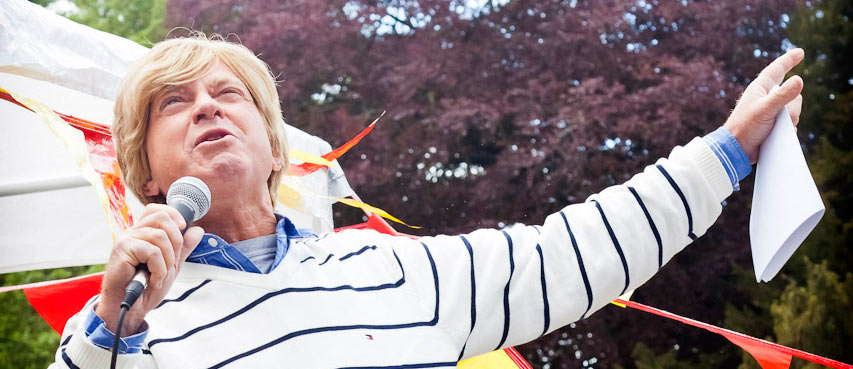 I am the Member of Parliament for the Lichfield Constituency.
This page contains biographical information which I hope you will find of interest.
On other pages, there is information on how to contact me or attend one of my advice surgeries; news about my work in the Lichfield constituency and in Parliament; some of the speeches I have made in the House of Commons; and some of the articles I have written about politics, engineering, and other matters.
You can also follow me on Facebook,  Twitter,  YouTube  and  Instagram
Overview
I was first elected Member of Parliament for the Mid Staffordshire constituency, which included the City of Lichfield,  in 1992 after first having a career as a broadcaster and then in broadcast engineering and management.  In 1997, the constituency was changed and renamed back to  'Lichfield' – the original Lichfield Parliamentary Constituency goes back to 1305 and was one of the very first – and I have remained the MP for Lichfield ever since.  In the 2019 General Election, I won 64.5% of the total vote out of a field of 5 candidates.
In Opposition, I was shadow trade minister drawing on my experience selling radio and tv studio systems abroad and then became a senior whip.
In 2010, I was moved to the Government Whips' Office as the Government Pairing Whip and I enjoyed the rather grand title of 'Lord Commissioner of Her Majesty's Treasury'. My duties included ensuring that sufficient numbers of coalition MPs are available to pass Government legislation in the House of Commons. I resigned from the Government in 2012 (see News) and was appointed Vice Chairman of the Conservative Party. In the May 2015 General Election, my majority increased yet again amidst a field of 6 candidates capturing 55.2% of the total votes cast. My overall majority was increased to 18,189 which increased in the 2017 general election, and then yet again in 2019 to 23,638.
Prior to Parliament, I ran an electronics business and exported systems made in the UK to 48 countries worldwide.
Member of Parliament
In 1992 I was elected to Parliament for the Mid Staffordshire constituency which included the City of Lichfield.  Then, in May 1997,  after the Parliamentary boundaries were changed and the constituency was abolished, I was re-elected as the Conservative Member of Parliament for the constituency of Lichfield and re-elected each time thereafter with ever increasing majorities and vote share.
Opposition Whip
Prior to the 2010 election, I was an Opposition Whip and my duties included our by election campaigns. Immediately prior to that appointment, I was Shadow Minister for Economic Affairs with responsibilities overlapping Trade & Industry and the Treasury.
Culture, Media and Sport Select Committee
When I first became an MP, I was a member of the Culture, Media and Sport Select Committee (originally known as 'National Heritage') under the chairmanship of Sir Gerald Kaufman MP. Select Committees are authorised to scrutinise the work of Government departments, to call witnesses for inquires, and to publish reports. My other interests include Trade, with special regard to the promotion of exports and high technology, and Foreign Relations particularly with respect to the United States and the European Union. In October 2001, I was appointed Chairman of the House of Commons Information Committee, but ceased to be its Chairman on my appointment as a Shadow Minister. And in May 2005, having been appointed a Whip, I ceased being a member of any Select Committee.
Home Affairs Select Committee
Prior to 2001, I had served on the Home Affairs Select Committee which scrutinises the work of the Home Office and Office of the Lord Chancellor. In the last Conservative Government, I was Parliamentary Private Secretary to the Financial Secretary in H.M. Treasury from April 1996 until the General Election in May 1997 when Kenneth Clarke was Chancellor of the Exchequer.
Parliamentary interest groups
I have been active in a number of All-Party Parliamentary interest groups including being Chairman of the Royal Marines All-Party Group (I served with the Armed Forces Parliamentary Scheme attached to the Royal Marines in 1998) and I am the founder of Conservative Friends of America whose President is David Cameron and Vice President is William Hague.
University and Profession
Michael has a Bachelor's degree in Economics and Law from Loughborough University, a Master of Science degree in Operations Research from the University of Sussex, and undertook postgraduate doctoral research in Economics and Econometrics at Oxford, London University, and the University of Southern California in Los Angeles. Michael was formerly a Chartered Engineer and a Fellow of the Institution of Electrical Engineers having been proposed by the then Engineering Directors of the BBC and the IBA, and a Fellow of the Royal Society of Arts though he has since allowed these memberships to lapse. He was a 100 and 220 yard sprinter for school and university – before they changed it all to metres – and speaks 'tolerable' French and German and a little Dutch and Russian too.
International broadcast manufacturing and management
For eleven years prior to his election to Parliament, he was a Senior Director and Co-founder of an international broadcast manufacturing and management group whose clients in 48 countries throughout the world included the BBC, Radio Moscow, the Netherlands Broadcasting Corporation, Radio Uganda, the Italian State Broadcasting Service, Icelandic State Broadcasting Service, and many independent radio stations both abroad and in the United Kingdom including Capital Radio. He was responsible for the long-term strategy of the group and for its export sales, travelling to – and working in – many overseas countries. He advised the Russian Federation in its early days after the collapse of the Soviet Union on how to operate a broadcasting network in a democratic society.
Radio broadcaster
Prior to all this, he worked as a radio broadcaster in news and current affairs and was also managing director of an independent radio company whose President was Dame Vera Lynn……. His first job was as an economist.
Before University
Before going up to university, he taught physics and chemistry for a year in a state secondary school. And while studying for his doctorate, he tutored Master's degree students at London University and the University of Southern California in statistical methods in economics. Prior to his being elected to Parliament, he was Chairman of the Brighton Pavilion Conservative Association for three years and, before that, the Chairman of its Political Committee. He initiated a series of Conservative Political Conferences hosted at foreign embassies in London including those of the former Soviet Union, South Africa, and Turkey. At the Conservative Party Conference, he inaugurated and edited the first daily Party Newspaper. Two years later he organised Europe's first Party Conference Radio Station broadcasting in stereo FM continuously through the conference week.
He was active in Conservative Party politics at university, but when he was 13 he stood in school elections as the Communist Party Candidate because someone was already chosen as the Conservative! Since being elected to represent Lichfield, Michael always feels compelled to check whether crockery is made in Staffordshire and toilets from the town of Armitage. His other outside interests include fell walking, canal boating, reading, ski-ing, Mozart operas, listening to the Omnibus edition of the Archers – and eating out.
[The Parliamentary constituency of Lichfield includes the City of Lichfield, Abbots Bromley, Alrewas, Armitage, Barton under Needwood, Burntwood, Chase Terrace, Chasetown, Colton, Fradley, Hammerwich, Handsacre, Kings Bromley, Kingstone, Longdon, the Ridwares, Streethay, Tatenhill, Whittington, Yoxall, and surrounding Staffordshire villages.]