On 13th November 2023
Michael Fabricant visited Jobs 22's Lichfield Restart Scheme office last Friday (10th November 2023), where he met staff and participants on the Department for Work and Pensions' Restart Scheme, which is being delivered across central England by Jobs 22.
The Lichfield MP was keen to understand how Jobs 22 was supporting local people back into employment through the Restart Scheme. Individuals are helped through a range of services that focus on improving a person's employability while addressing their health and wellbeing needs.
A group session with four Restart Scheme participants was held and Sir Michael Fabricant observed part of it. Topics covered included CV advice, cover letters and applications and a discussion on live vacancies and what employers are expecting from potential employees. Sarah Porter from Churchill Group contributed to this session. They have already taken on staff who have previously been Restart Scheme participants.
Michael met and spoke with the four participants, along with several staff from Jobs 22, including the chief executive, on Job 22's approach to helping people back into employment.
One participant, Amy Evans has been on the Restart Scheme since January and has been unemployed for a long time. She has received a range of support including successfully completing an employability and customer service courses. Amy continues to volunteer at a local fire station and for Rainbow Club, working with children. This is Amy's aspiration. A further development plan is being put together to help Amy progress towards her dream role.
Amy Evans, Restart Scheme participant said: "I think it's good that our local MP came along to see how long-term unemployed people are being supported. He talked about the journey he took to work in politics and how we all take different routes to get to somewhere we want to be. He also said he sometimes gets nervous speaking in the House of Commons, comparing it to interviews, which are also anxious experiences. He gave us some advice on how to channel our nerves which was really helpful."
An Employment Coach will work with each participant to identify and address any specific barriers that are holding them back. The aim is to secure long-term employment into meaningful jobs, that provide a stable income and real hope for the future.
Michael Fabricant says: "It was fascinating to see the DWP's Restart Scheme in action at the Jobs 22 centre in Lichfield. Stable employment gives people so much more control in their life and a greater sense of purpose. I also recognise there are many barriers that hold people back from securing employment.
"I was very interested by the work that Jobs 22 is doing, tackling many of these barriers through effective training, through the Restart Scheme. I am also grateful for the support from local employers too, who have been working with Jobs 22 to provide many different employment opportunities."
The Restart Scheme helps people who have typically been unemployed for nine months or more. Participants are paired with an employment coach for enhanced support. The coach learns about an individual's circumstances, what skills and experience they have and what roles they are interested in. This includes self-employment. A plan is developed to address any barriers that may be holding a person back. Support can last for up-to 12 months.
Jobs 22 delivers the Restart Scheme on behalf of the Department for Work and Pensions (DWP) across central England, including Staffordshire.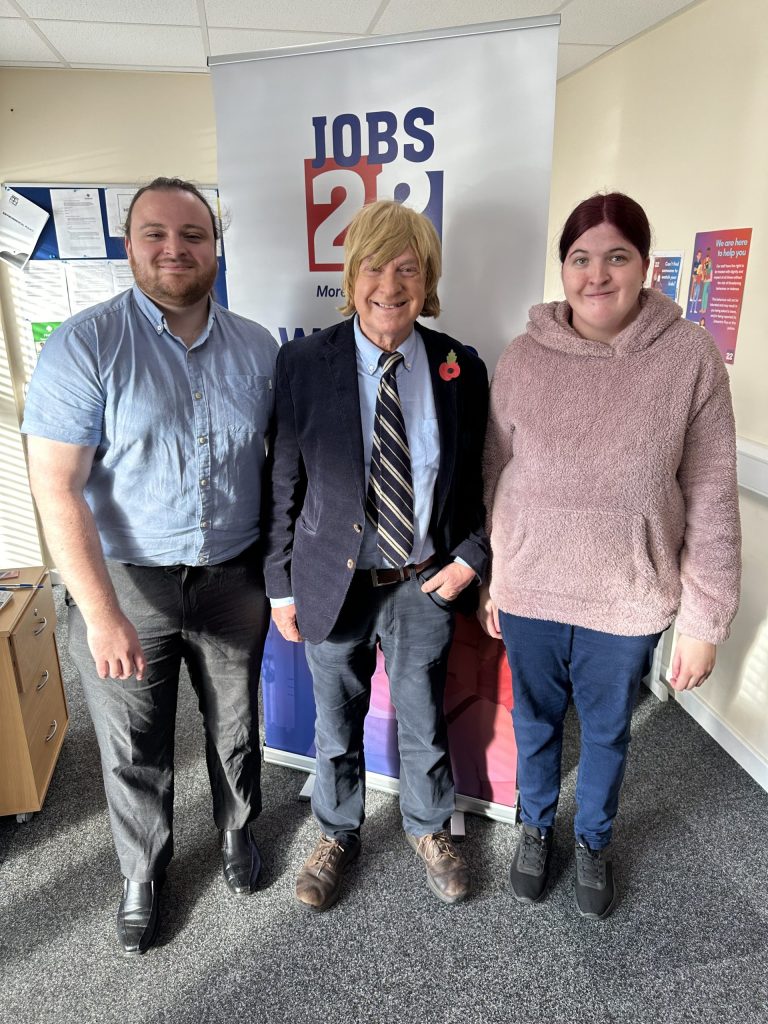 Photo shows: (L-R) Andy Sweeney, Jobs 22 Employment Coach; Michael, and Restart Scheme participant, Amy Evans.