On 30th March 2023
"After much to-ing and fro-ing between me, the Department of Transport and the Treasury over the last couple of weeks, I have finally received official confirmation from the Rail Minister, Huw Merriman, that HS2 works already underway north of Birmingham will definitely continue without delay"  says Michael Fabricant.  This followed a statement by the Government on the 14th March stopping all work north of Birmingham even though it was still in Phase 1 of the HS2 programme.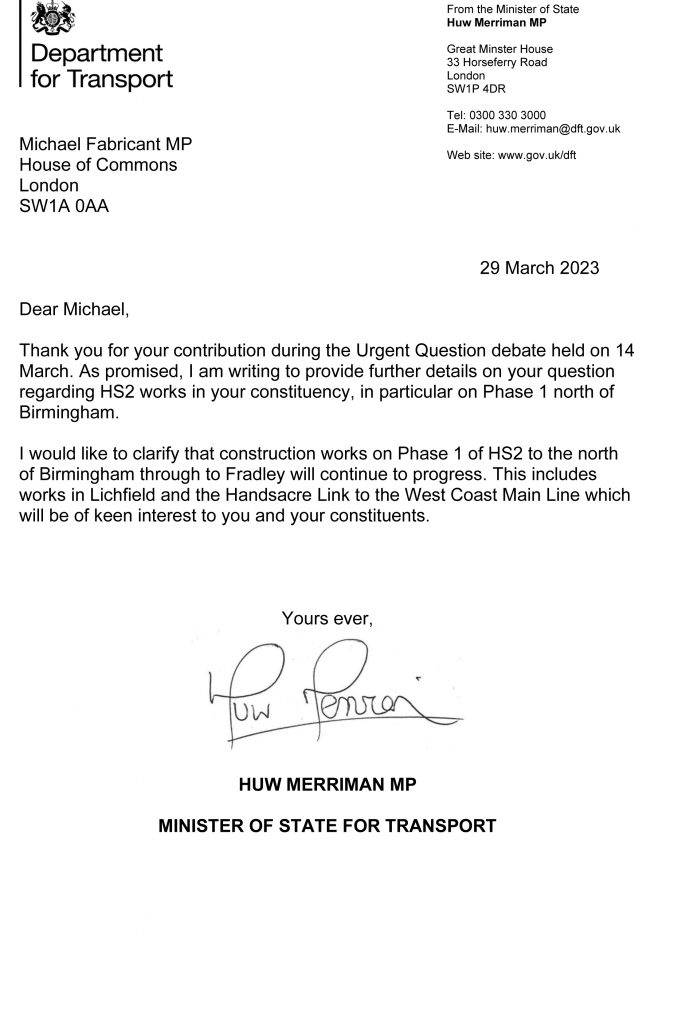 In a letter to Michael Fabricant, Huw Merriman says: "Thank you for your contribution during the Urgent Question debate held on 14 March. As promised, I am writing to provide further details on your question regarding HS2 works in your constituency, in particular on Phase 1 north of Birmingham.
"I would like to clarify that construction works on Phase 1 of HS2 to the north of Birmingham through to Fradley will continue to progress. This includes works in Lichfield and the Handsacre Link to the West Coast Main Line which will be of keen interest to you and your constituents."
Michael adds:  "The Treasury originally ordered that only work between Old Oak Common and Birmingham should continue seemingly unaware that substantial work was already underway in the Lichfield area as a part of Phase 1 to enable a link between HS2 and the West Coast Mainline.  Several roads and footpaths have been blocked off and the A38 dual carriageway is experiencing major delays at peak time because of major roadworks.  HS2 either had to make this good, which would be costly, or quickly get on with the work and finish it.  In any event, the Government had said that the halt to the works was temporary for a few years when all the work work would then have to be resumed again.
"I have now asked the Department for Transport when they expect all the works to be completed so that life in the area can begin to return to normal.  In the meantime, I am extremely grateful to the Rail Minister, Huw Merriman, for working closely with me on this and banging heads together."