On 7th March 2022
"It is sadly inevitable that fake websites will be set up to defraud decent people wishing to send cash to help those suffering from the Russian invasion of Ukraine" says Michael Fabricant.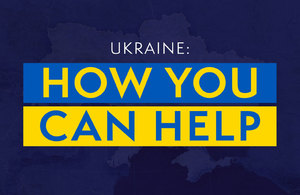 "I strongly urge people to check out the UK Government website page 'Ukraine: what you can do to help' which gives a number of approved links to charities where you can be assured that your money will be put to good use.  It also explains how you can check whether a charity is genuine or not.
"In particular,  the UK Government is matching public donations pound-for-pound for the Ukraine Humanitarian Appeal.  It is providing food, water, shelter and healthcare to refugees and displaced families.  Its website can be found here.
The Government warns:  "One of the best ways to help is by donating cash through trusted charities and aid organisations, rather than donating goods. Cash can be transferred quickly to areas where it is needed and individuals and aid organisations can use it to buy what is most needed. Unsolicited donations of goods, although well-meant, can obstruct supply chains and delay more urgent life-saving assistance from getting through.
"Organisations across the UK are gathering essential supplies, such as clothes, first aid and sanitary products. Many charities and community groups will have lists of items they need.  Charities with experience of responding to disasters are best placed to reach victims on the ground."
Michael adds "Another useful source of information is the Ukrainian Institute in London.  It lists a number of charities though I advise you to check they are on the Government's Charity Register and the Government website tells you how to do this.  The page also has links to where you can get further information.  See their webpage on how to support Ukraine and Ukrainians".