On 8th February 2022
The Parliamentary Boundary Commission for England has just released the responses they have received to their initial proposals.
Michael Fabricant says:  "An incredible 376 people responded to the proposed move of Streethay from the Lichfield to the Tamworth Parliamentary constituency of which only two – both non-residents – supported the move as part of their wider comments on boundary changes in the West Midlands. 374 respondents strongly opposed the move.  This is one of the largest number of responses received by the Commission for anywhere in England!
"Words used to describe the proposal include:  ridiculous, stupid, incredible, bizarre, ludicrous, crazy, baffling, illogical, and unacceptable.
"I agree.
"Reasons given for their opposition to the change included Lichfield schools and shops being close to Streethay, historical connections, division of Lichfield Trent Valley station between Lichfield and Tamworth constituencies, and people who have moved to Streethay saying they might not have done so if they had known it were going to be moved into the Tamworth constituency.
"I am pleased that Lichfield City Council has proposed that come the next local boundary review, they will argue for the Streethay and Whittington ward to be split and Streethay Ward to be formally absorbed into the City of Lichfield
"I will make further representations to keep Streethay in Lichfield in early March when I appear in person before the Commissioners in Stafford.  I urge others to do so too."
The Boundary Commission for England say:  "Those wishing to make an oral representation at a public hearing are strongly encouraged to book a timed slot in advance. To book, visit the dedicated public hearings page on our website and click on your chosen hearing. You will then be invited to register via the booking platform Eventbrite. A step by step guide for booking via Eventbrite is published on our public hearings webpage.
"While Covid remains a concern, we plan to take proportionate steps – in line with official guidance – to minimise the risk of transmission, while still allowing these statutory 'in person' hearings to take place. You can find further details in our published Guide to the public hearings, which should also answer most other questions you may have. Should you not wish or be able to attend a hearing in person, however, please be assured that in our subsequent analysis of views, to consider whether and to what extent to revise our proposals, we treat oral and written representations with equal weight."
A slot to appear before the Commissioners can be booked online here:
https://boundarycommissionforengland.independent.gov.uk/wp-content/uploads/2022/01/2022-01-18-Step-by-step-guide-to-booking-with-Eventbrite-.pdf
And you can read the 376 comments regarding the proposed move of Streethay to Tamworth by entering "Streethay" in the top left hand box on the webpage here:
https://www.bcereviews.org.uk/search/comments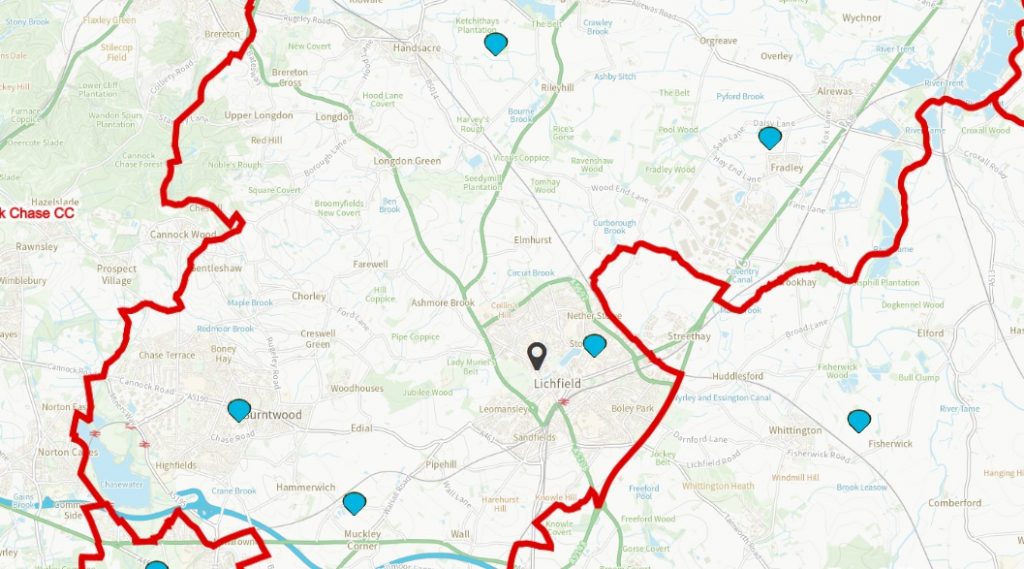 Proposed new boundary between Lichfield and Tamworth Parliamentary constituencies