On 31st January 2022
Following an enquiry from a constituent, Michael Fabricant asked the Department for Transport what benefits, if any, HS2 will derive for Lichfield District.
"I have consistently opposed HS2 in Parliament due to the lack of connectivity of the route and the huge environmental damage it will do – and is doing – to the countryside as it crashes through previously unspoiled fields and woods. However, I am keen that whatever grants we can get from HS2 are applied for" says Michael. "There should be some benefit to the community though it will be no compensations for all the disruption the construction will bring."
In response to Michael, HS2 Minister at the Department for Transport, Andrew Stephenson, said: "I have been informed by HS2 Ltd that to date they have announced seven awards totalling over £375,000 into community projects in the Lichfield area. This includes grants for improvements to sports facilities, a children's play area, a community library, a memorial hall and a BMX track. In addition, a further four awards totalling just under £300,000 have been approved and will be announced in the coming months.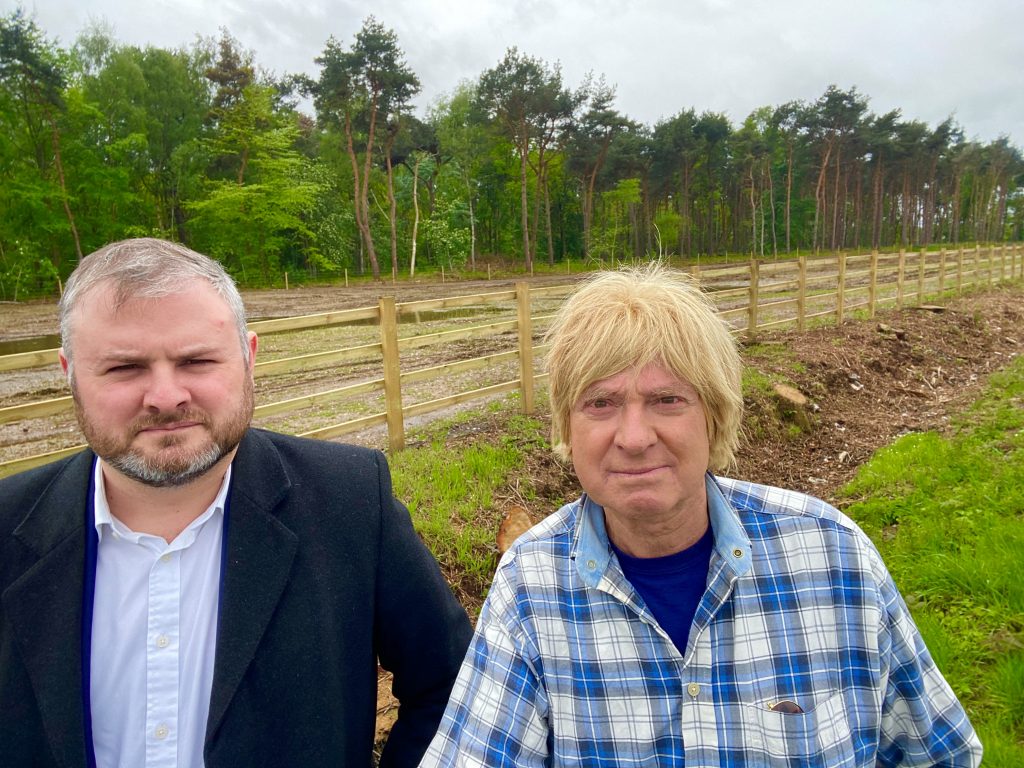 Photo shows Andrew Stephenson, left, with Michael Fabricant
in Wood End Lane near Lichfield
"All the awards that have been approved in the Lichfield area to date are for improvements to community amenities. If your constituents wish to find out what projects have been funded to date in Lichfield (or across the line of route), these can be found on HS2's online interactive map – https://hs2funds.org.uk/home/projects-funded-by-hs2-funds/
New awards are added to this map on the last Friday of each month.
"With regards to the query about funding for enhancements to the canal network or extensions to footpaths/cycleways, these are types of projects that HS2 Ltd could potentially consider CEF funding for, subject to an application being submitted that meets the programme criteria. In line with the governance and eligibility requirements for the programme, the relevant landowner (in this instance, HS2 Ltd have indicated it would expect this to be either The Canal & River Trust or the Local Authority) would need to be the applicant."
Further information on this funding programme including guidance documents and frequently asked questions can be found on HS2's website at: https://hs2funds.org.uk/