On 20th December 2021
Michael Fabricant along with the Mayor of Lichfield, Cllr Robert Yardley, and Headteacher, Mike Dowd, judged Christmas windows recently at St Stephen's Primary School in Fradley near Lichfield.
Michael says "Each class had created their own Christmas window all of which were absolutely stunning!  The School's Parent Teachers Association helped organise the event and great local companies like The Fradley Fryer, Lichfield Coop, Coffee Unity, Plumbhub, Lichfield Golf and Country Club, Barrows and Forrester, The Swan at Fradley Junction, Game Changer, Fradley Roofing Services, Heads Up, Gym Unity, DHL, The Laughing Duck Cafe, and Solo Carpets all helped to sponsor the event.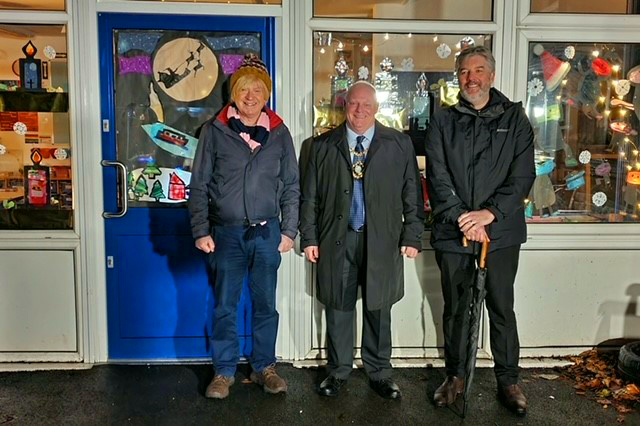 "This was a wonderful example of community spirit and I am grateful to the Mayor of Lichfield, Rob Yardley, who judged the competition with me and for the guidance we received from headteacher, Mike Dowd.  Judging the winners was really tough – they were all so good!
"The first prize was donated by Lichfield Golf and Country club – all of the children had a free pass for their family to attend. Second, 3rd & 4th class winners all received a sweet cone each."
Photos shows (l to r) Michael Fabricant, Robert Yardley (Mayor), and Mike Dowd (Headteacher) and one of the Christmas windows.