On 22nd March 2021
"I was delighted to see improved access for pedestrians and drivers when I visited Lichfield Trent Valley Station this morning" says Michael Fabricant.  "The Lichfield Rail Promotion Group and I have been campaigning hard for a safe footpath off the Burton Road into the railway station instead of the need to dodge cars entering and leaving the car park.  And drivers will notice a big improvement too with no pot holes and fresh tarmac on the road surface.  This morning, I met Jonny Wiseman, the Customer Experience Director of West Midlands Railway, and Dave Harris the station manager to see these improvements for myself and discuss future plans for the station which will include a possible additional platform for a Lichfield to Burton service via Alrewas and the National Memorial Arboretum.  We remained separated outdoors to comply with Covid regulations."
Jonny Wiseman says: "These improvements will mean a smoother welcome to the station for motorists and pedestrians alike when passenger numbers begin to increase over the coming months.
"All through lockdown we have continued to run trains for our customers who have been making essential journeys and with the trains quieter than usual it was the perfect time to complete this upgrade work."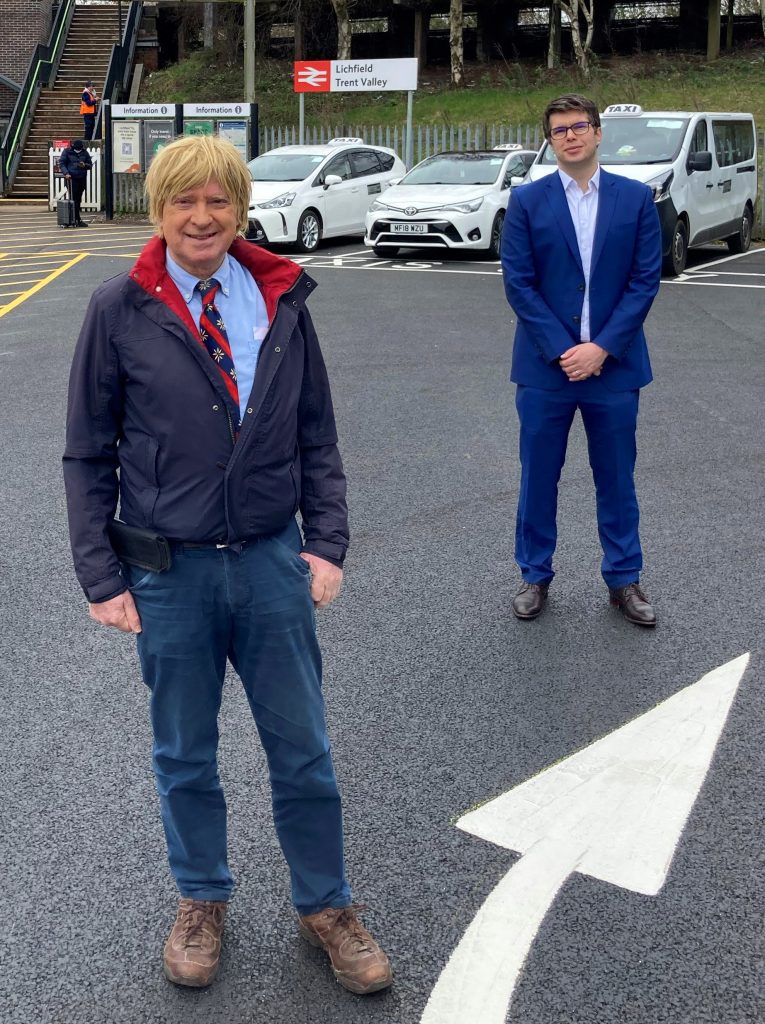 Michael adds:  "The work is the latest in a series of improvements at Lichfield Trent Valley, following the opening of passenger lifts at the station last year."
The two-level station provides direct services to Birmingham via the Cross City Line as well as London and the North-West via the West Coast Main Line.
Passengers are reminded that rail travel is currently reserved for essential journeys only in line with Government measures.
Photo shows, left to right: Michael Fabricant and Jonny Wiseman
– separated  to comply with Covid regulations.