On 17th November 2020
Michael Fabricant is contacting Staffordshire Police, the Government Minister responsible for HS2, and the latest managing director of HS2 following an incident at Fradley.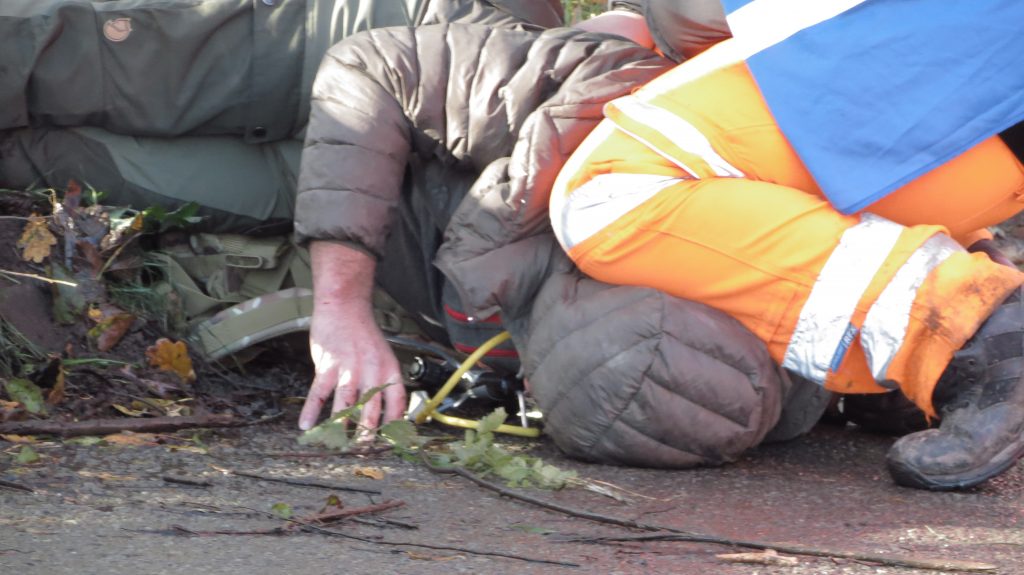 An observer at the scene has contacted Mr Fabricant and says: "A lone protestor had unwisely fired some carrots using a catapult over the HS2 fence from the other side of the road.  The man was thrown to the ground by a number of HS2 security people, kicked, and held down with a knee on his neck for at least 4 minutes, someone timed it.  During this time a number of passing motorists stopped to protest but it was not until the police arrived that he was able to get up."  A photo supplied to Michael Fabricant apparently shows a security man's knee on the protestor's neck.
Michael says:  "My views on HS2 and the destruction of Ancient Woodlands are well known.  However, despite my voting against the legislation in Parliament, HS2 was authorised with an overwhelming majority.  However, the law does not permit using excessive force by HS2 against protestors.
"I was not a witness to the event so I cannot judge whether excessive force was used or, indeed, whether any force was necessary at all.  But several constituents have contacted me about this event and I take their concerns seriously.  I have, therefore, written to Gareth Morgan, the Chief Constable of Staffordshire Police to ask whether there is evidence that HS2 personnel have committed an assault, and have also written to Andrew Stephenson MP – the minister at the Department for Transport responsible for HS2, and the managing director of HS2, Mark Thurston.
"Lawful protest against HS2 is permitted.  Heavy handed tactics by HS2 are not."