On 23rd October 2020
"The latest figures for Lichfield District as of 22nd October show an infection rate of 146 per 100,000 population, a rise in infection of +82% over the previous week, and 153 Covid cases last week" says Michael Fabricant.  "A rate over 140 is a warning signal to SAGE, the Government's Scientific Advisory Group for Emergencies.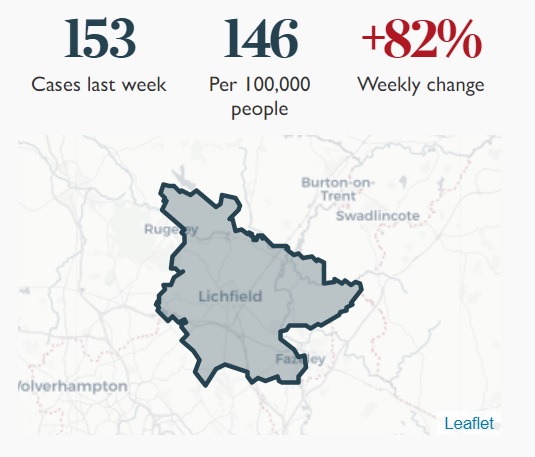 "Unless we can bring the infection rate down, Lichfield District will be heading imminently to Tier 2 which means High Infection rules come into play.  That means that while pubs and restaurants will remain open, only individual households are allowed to sit together.  No mixing will be allowed indoors from different households.  However, Groups of six will still be able to meet outdoors.
"And if that doesn't work, then we will enter Tier 3 which means very high infection rates leading to the tight restrictions we've seen in Liverpool and elsewhere.
"It's up to us.  Either we respect the rules, which doctors say will help protect the lives of the vulnerable, or we will all suffer the consequences.
"It's simple enough:  Wear a face mask in a confined space indoors, try not to touch your face, keep your hands clean by washing, and avoid getting closer to anyone than 2 metres or 6 foot 6 inches."