On 21st August 2020

The Telegraph
August 21st, 2020
While the President has taken the initiative on the world stage, the Prime Minister is letting his star quality go to waste
With the latest YouGov poll narrowing the Conservative lead over Labour to just two points, should Number 10 be looking across the channel to France and take the lead from the once unpopular President Macron?
Macron has waded into a number of recent geopolitical crises. It is he who has been seen to take the initiative, not his foreign minister.
As well as Macron's widely-publicised visit to Lebanon following the explosion in Beirut, he has vocally supported Greece and Cyprus in their ongoing dispute with Turkey, spoken with Putin about the protests in Belarus and will no doubt ensure France plays an important role in securing democracy in French speaking Mali, in the wake of the military coup.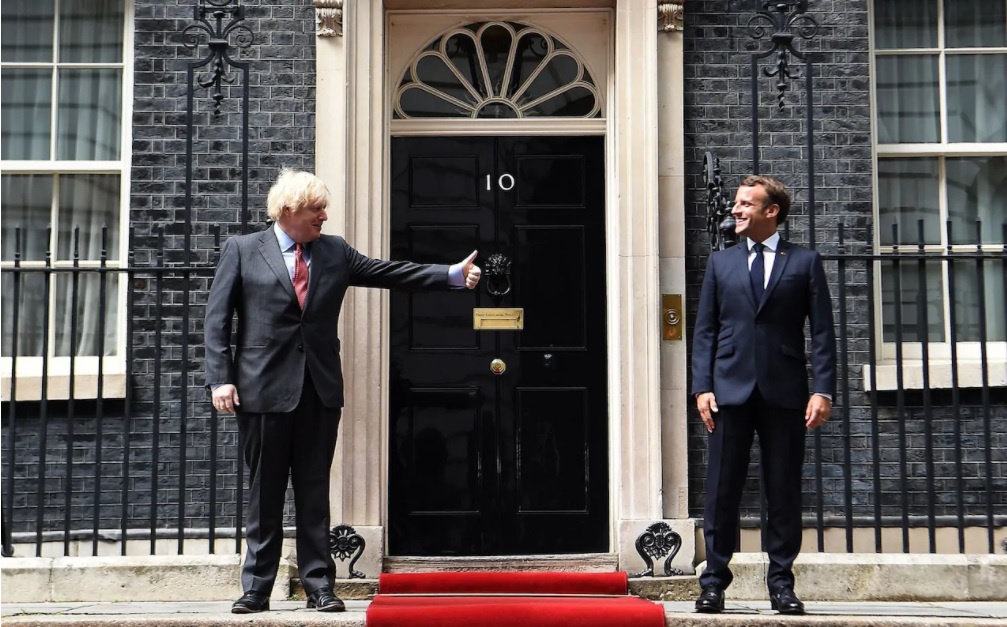 As a consequence of all this, Macron's approval rating has soared from 30% to 40%. He faces re-election in April 2022 and at the beginning of this year few would have predicted an election win.  Now he is streets ahead of his rivals.
Boris Johnson's first foreign policy objective was always to deliver Brexit and then to leave the Transition period at the end of this year.  He will then have three to four years to consolidate his position before a General Election.
But with the recent A level farce, complacency should not be on the agenda.
All of our most important Prime Ministers have had their own foreign policy vision. From Churchill and Attlee to Thatcher and Blair, a clear picture of where Britain should be on the world stage is essential – perhaps now more than ever.
But apart from the all-important Brexit, Boris Johnson and his government have been remarkably low-key on foreign policy since taking office.
The much vaunted Integrated Security, Defence and Foreign Policy Review, which is supposed to be the most significant review of British foreign policy in decades, is now not expected until next year.
Understandably, there have been mitigating factors: there have been the tortuous Brexit negotiations and, in parallel, promising free trade discussions with our biggest trading partners including the US.  And, of course, there has been the once-in-a-century deadly global pandemic which has stress-tested most Governments around the world.  Pretty major activities!
But the "events" of which Harold Macmillan so famously spoke, those which can catapult a leader into the spotlight or leave him as a mere footnote of history, do not stop for anyone, or any virus.
The merging of DFID into the Foreign Office demonstrates that Boris is more than willing to shake up the foreign policy status quo.  But where do our foreign policy  priorities lie?
Aside from Hong Kong, on which the UK has taken strong and decisive leadership, spearheaded by Dominic Raab rather than the Prime Minister, our voice has been conspicuously absent.
Even Donald Trump, who is currently fighting a tough re-election battle amid widespread unpopularity at home, has managed to broker a ground-breaking peace deal to normalise relations between Israel and the UAE.
So what potential avenues lay open to Boris on foreign policy? What will be Britain's post-Brexit vision for the world, and how can the PM use his innate dynamism to help achieve this?
In the face of an increasingly totalitarian and belligerent China, cooperation with our Five Eyes intelligence partners (US, Canada, Australia and New Zealand) is paramount.
We must help to build an international alliance of democracies to stand against threats to the liberal world order wherever they arise. Deepening our relationships with countries like Japan, South Korea, Taiwan, India and Israel can bring both security and trade benefits.
To do this, we need to ensure our military remains well-funded. Without a strong navy in particular, our attempts to protect and enhance global security will be purely symbolic.
Free trade is crucial and Boris has been vocal in speaking up for it.  With work on trade deals with the US, Japan, Australia and New Zealand progressing well, perhaps Boris should consider a global tour once the Covid crisis has abated?
After all, he has yet to visit Japan or Canada since taking office, and it has been almost six years since any British Prime Minister has visited Australia, and over 14 years since one has set foot in New Zealand.
Some may argue that prime ministerial visits are just an excuse for a jolly, but this couldn't be further from the truth. They represent a real opportunity for Boris to articulate his vision for Britain's place in the world and to show our closest allies that "Global Britain" is not a mere slogan.
And if the Oxford Vaccine succeeds, that too will present an opening for the UK to exert its influence globally and retool our alliances for a less Eurocentric world.
Perhaps Boris is simply biding his time – the threat posed by the Coronavirus has not gone away, and we're still over three and a half years away from the next planned general election.
But Boris possesses a fabulous personality and is of star quality.  It should not go to waste.  He should share it around the world!
Time waits for no man, and the PM must make sure that these crucial years are well used: promoting a Britain free of EU control as a global leader as we head into another tumultuous decade.