On 21st July 2020
On Tuesday 21st July, Michael Fabricant co-chaired with Andrew Rosindell MP a meeting of senior Commonwealth High Commissioners (i.e. Commonwealth Ambassadors) and Parliamentarians from the House of Commons and House of Lords.
Michael says  "I very much enjoyed helping to chair a highly constructive Parliamentary Meeting with the High Commissioners of Australia (His Excellency the Hon George Brandis QC), Canada (HE Janice Charette), and New Zealand (Acting HC David Evans)
"We all have everything in common & little – if anything – to divide us.
"All were keen to conclude comprehensive trade agreements with the UK and we discussed issues including agricultural exports, free travel between our countries, the effects of Covid19, and security issues including China.  George Brandis reminded us of the unique Five Eyes arrangement where the United States, United Kingdom, Canada, Australia, and New Zealand share and operate a common intelligence operation.
"Long before Brexit was ever dreamt of, I have argued for this wonderful opportunity to create an enduring global network of likeminded, English speaking nations which also all use our Parliamentary system and the English law in their courts.  It's a natural partnership."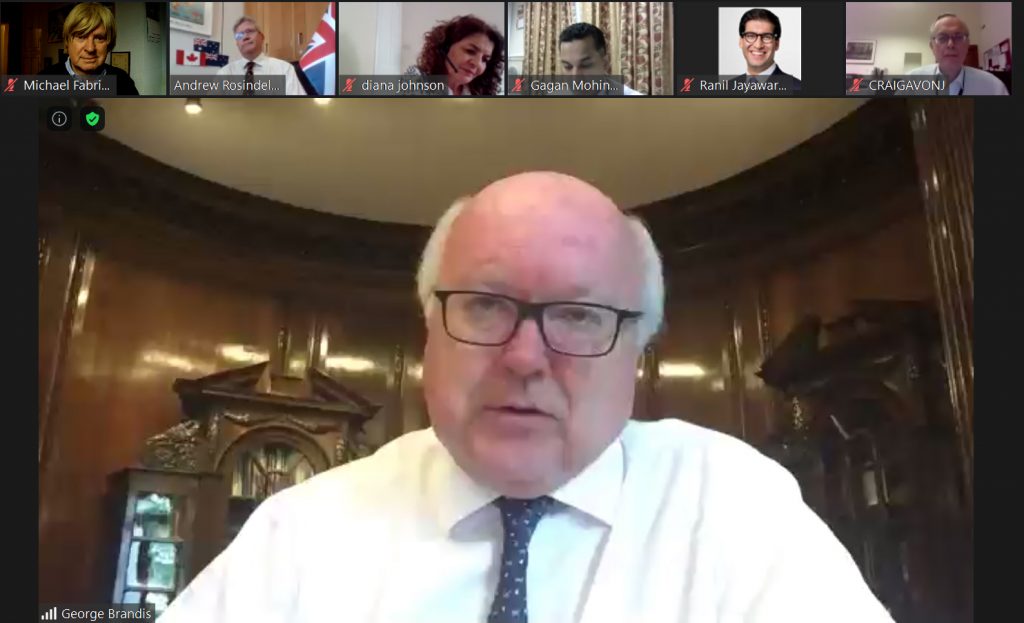 (Photo shows His Excellency the Honourable George Brandis QC, former Attorney General of Australia and currently the High Commissioner of Australia in the Zoom Meeting. Michael is top left.)