On 17th July 2020
Michael Fabricant joined some of the Board of Abbots Bromley Sports Association to receive the official recognition signage from the Football Foundation for the new sports facility in Abbots Bromley on Thursday (17th July).
The occasion marks the near completion of the second phase of development at the ground, with two football pitches nearing completion alongside the already laid cricket pitch at the Lichfield Road site in Abbots Bromley. It also recognises the considerable financial support given as grants from the Football Foundation in enabling this progression of the plan.
This community project commenced in 2013 as an idea and a vision of a few, and has progressed over time to a reality of the whole of Abbots Bromley and the wider community. The village, through the considerable endeavours of the Trustees and volunteers have raised and spent £700,000 to get to where we are now. The final Phase will see tennis, netball and hopefully many other activities as well as a Clubhouse for the whole community to use and enjoy as a safe place to explore all aspects of health and well-being. It is hoped this might be completed within the next two to three years, if new funding can be realised.
Michael met a number of Trustees alongside the developers at the new site, and walked around the 14 acre facility to see what had already be achieved, and what more was envisioned to be completed.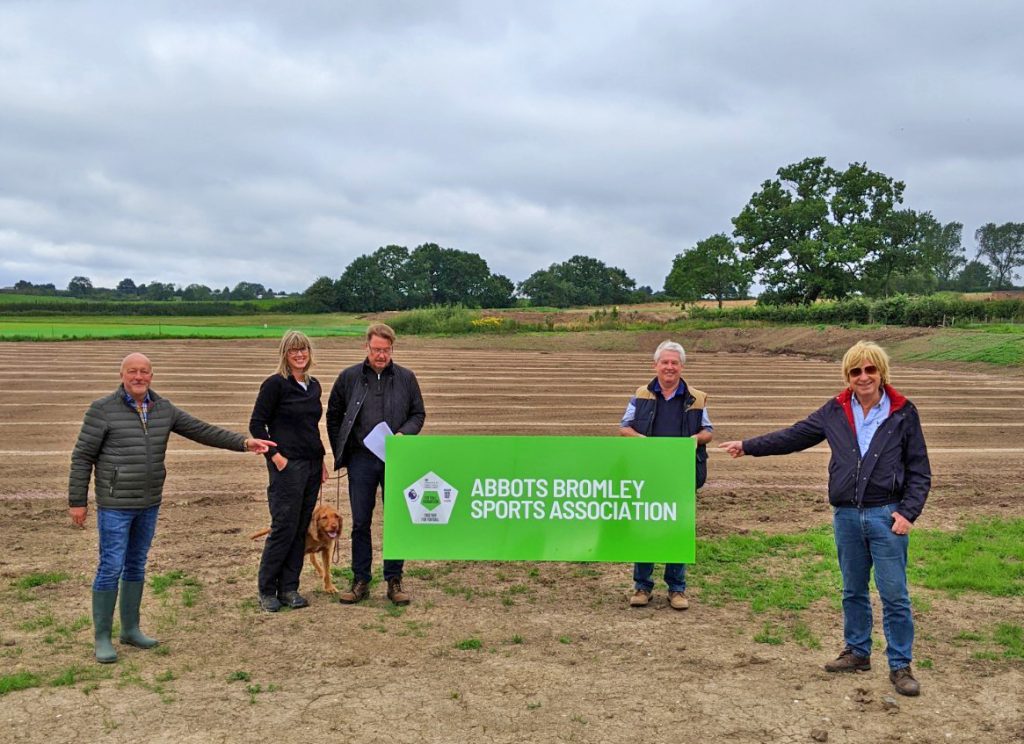 Photo shows, left to right:  Chris Wood (Chairman) Louise Haywood (Trustee), Ian Haywood (Trustee and Finance Director), John Stevenson (Trustee and Project Director), and Michael Fabricant
Chris Wood, Chairman of the charity remarked, "On behalf of the Board, I am extremely grateful for Michael to come and share this milestone with us here at Abbots Bromley. This has been a difficult period for everyone, here and abroad, and to have the opportunity to remain positive about a future and to continue to build upon it is so important. There are some tough times ahead with funds and grants being scarce, and the ability to raise funds through events being non-existent, but this community I am sure, will find a way to complete this fabulous and worthwhile project."
Michael says:  "This has been a phenomenal effort by local people and the sports ground will be an incredible asset to the community.  The Abbots Bromley community has pulled together with their vision to create these facilities which will become one of the finest in the midlands.  The village is to be congratulated!
"I am looking forward to visiting again and maybe pulling the first pint when the clubhouse is opened in the future.  This has been a fantastic venture – particularly in these difficult times – and I fully support and congratulate the Abbots Bromley Sports Association with what they have achieved."