On 27th March 2020

Thursday March 26th, 2020
There will be darkness before there is light but we will get through this
"It will get worse before it gets better, but we will get over this", says Lichfield MP Michael Fabricant writing for the Mercury
Perhaps more than any other health service worldwide, the NHS has conducted extensive exercises for dealing with a pandemic. As a consequence, the NHS and its wonderful staff are well practised to deal with epidemics like Covid-19.  Though nobody doubts the strain it will put on the NHS and its clinicians, so that is why the Prime Minister announced social distancing rules.
If too many people become seriously unwell at one time, the NHS will be unable to handle it – meaning more people are likely to die. So, it is vital to slow the spread of the disease.
In this article, I want to provide information that may be helpful to Mercury readers.
Firstly, Government action is being led by scientific and medical advice to ensure the public is protected.  The situation is changing on an almost daily basis and I would strongly recommend that you update yourself by checking the website www.Gov.UK which contains not just medical information, but tax and finance funding news too.
You will now be aware of the 'stay at home' regulations: you can only go out for (1) Shopping for basic necessities, for example food and medicine, which must be as infrequent as possible; (2) One form of exercise a day, for example a run, walk, or cycle – alone or with members of your household; (3) Any medical need, or to provide care or to help a vulnerable person; and (4) Travelling to and from work, but only where this absolutely cannot be done from home. These four reasons are exceptions – even when doing these activities, you should be minimising time spent outside of the home and ensuring you are 2 metres (6' 6") apart from anyone outside of your household.
The Government is also stopping all public gatherings of more than two people. There are only two exceptions to this rule: where the gathering is of a group of people who live together – this means that a parent can, for example, take their children to the shops if there is no option to leave them at home; and where the gathering is essential for work purposes – but workers should be trying to minimise all meetings and other gatherings in the workplace.
Meanwhile, clinicians in both primary and secondary care have received advice, covering initial detection and investigation of possible cases, infection prevention and control, and clinical diagnostics.  A test is being developed to determine whether individuals have had Covid-19 and the UK, along with countries around the world, is working on developing a vaccine.
The UK is one of the first countries to have developed a world-leading test for this new coronavirus.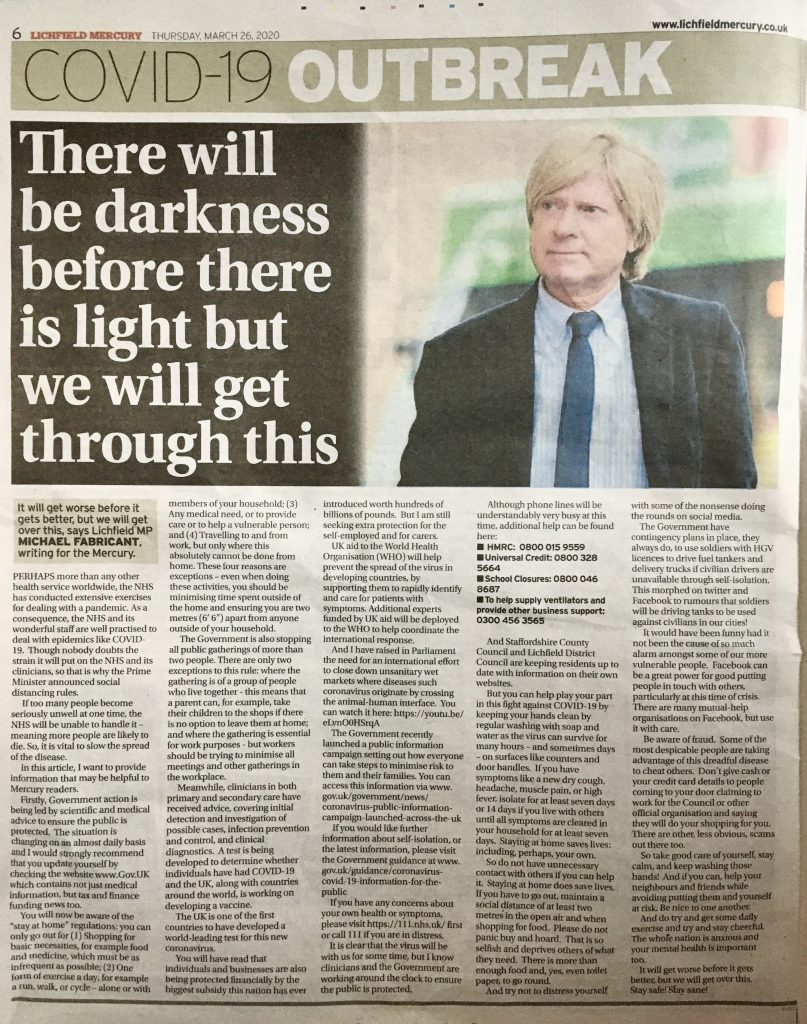 You will have read that individuals and businesses are also being protected financially by the biggest subsidy this nation has ever introduced worth hundreds of billions of pounds.  But I am still seeking extra protection for the self-employed and for carers.
UK aid to the World Health Organisation (WHO) will help prevent the spread of the virus in developing countries, by supporting them to rapidly identify and care for patients with symptoms. Additional experts funded by UK aid will be deployed to the WHO to help coordinate the international response.
And I have raised in Parliament the need for an international effort to close down unsanitary wet markets where diseases such coronavirus originate by crossing the animal-human interface.  You can watch it here.
The Government recently launched a public information campaign setting out how everyone can take steps to minimise risk to them and their families. You can access this information here.
If you would like further information about self-isolation, or the latest information, please visit the Government guidance here.
If you have any concerns about your own health or symptoms, please visit the website https://111.nhs.uk/ first or call 111 if you are in distress.
It is clear that the virus will be with us for some time, but I know clinicians and the Government are working around the clock to ensure the public is protected.
Although phone lines will be understandably very busy at this time, additional help can be found here:
HMRC:  0800 015 9559
Universal Credit: 0800 328 5664
School Closures: 0800 046 8687
To help supply ventilators and provide other business support: 0300 456 3565
And Staffordshire County Council and Lichfield District Council are keeping residents up to date with information on their own websites.
But you can help play your part in this fight against Covid-19 by keeping your hands clean by regular washing with soap and water as the virus can survive for many hours – and sometimes days – on surfaces like counters and door handles.  If you have symptoms like a new dry cough, headache, muscle pain, or high fever, isolate for at least 7 days or 14 days if you live with others until all symptoms are cleared in your household for at least 7 days.  Staying at home saves lives:  including, perhaps, your own.
So do not have unnecessary contact with others if you can help it.  Staying at home does save lives.  If you have to go out, maintain a social distance of at least 2 metres in the open air and when shopping for food.  Please do not panic buy and hoard.  That is so selfish and deprives others of what they need.  There is more than enough food and, yes, even toilet paper, to go round.
And try not to distress yourself with some of the nonsense doing the rounds on social media.  The Government have contingency plans in place, they always do, to use soldiers with HGV licences to drive fuel tankers and delivery trucks if civilian drivers are unavailable through self-isolation.  This morphed on twitter and Facebook to rumours that soldiers will be driving tanks to be used against civilians in our cities!  It would have been funny had it not been the cause of so much alarm amongst some of our more vulnerable people.  Facebook can be a great power for good putting people in touch with others, particularly at this time of crisis.  There are many mutual-help organisations on Facebook, but use it with care.
Be aware of fraud.  Some of the most despicable people are taking advantage of this dreadful disease to cheat others.  Don't give cash or your credit card details to people coming to your door claiming to work for the Council or other official organisation and saying they will do your shopping for you. There are other, less obvious, scams out there too.
So take good care of yourself, stay calm, and keep washing those hands!  And if you can, help your neighbours and friends while avoiding putting them and yourself at risk. Be nice to one another.
And do try and get some daily exercise and try and stay cheerful.  The whole nation is anxious and your mental health is important too.
It will get worse before it gets better, but we will get over this.  Stay safe! Stay sane!
Michael Fabricant