On 4th November 2019
Longdon Village, just north of Lichfield, is getting its Royal Mail Post Box back.  "When the sub post office in Longdon was closed, the post box closed with it" says Michael Fabricant.  "I was contacted by Longdon Parish Council about this and, working with them, contacted Rico Back, the Chief Executive of Royal Mail in London.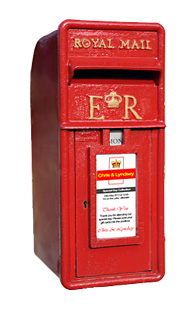 "I pointed out that villagers would have to risk life and limb crossing the busy A51 and then walk some distance if they wanted to post a letter or they would have to drive into Lichfield or Rugeley.  This was completely unacceptable.
"But we have a result!  A replacement  post box will now be installed on the corner on the corner of Brook End and Church Way.  So my thanks to Royal Mail and Longdon Parish Council who first drew this to my attention."