On 24th August 2019
The Telegraph
August 23rd, 2019
This weekend, Boris Johnson and Donald Trump are set to meet for their very first time as Prime Minister and President at the G7 Conference.  And the anti-American twitter war in Britain will start afresh.  Yet from a US perspective, the Anglo-American alliance could not be stronger.
Last Sunday I was strolling along the lake shore in Chicago with a friend.  Suddenly loudspeakers clicked on and we were welcomed to the Annual Festival of the Air and Water.
My attention was then rivetted by the next unexpected – by me – announcement "And to open the Festival, we present the Red Arrows of the Royal Air Force from the United Kingdom: our closest friend and ally".  For the next 25 minutes around 2 million Americans whooped, cheered and roared applause as the Red Arrows shot red, white, and blue across Lake Michigan and the skies above the city of Chicago.  If ever there needed to be a demonstration of soft power, this was it.  Unbeknown to me at the time, the Red Arrows are on an eleven week deployment to North America culminating in multiple flypasts over New York City.
The strength of feeling by normal Americans towards the UK cannot be underestimated.  Many I have been speaking to, from waiters to gas pump attendants, as I tour Chicago and the mid-West on a private visit, seem utterly perplexed how "a major power like the UK just can't get on and leave the EU".  Even the immigration officer at Chicago O'Hare airport asked me "C'mon!  You guys can do it.  Boris can make it happen, can't he?"
But I am saddened how along with the anti-Zionists and anti-Semites – there is supposed to be a difference but it is blurred – there is now a growing anti-American sentiment amongst Remainers on social media.
All the coverage of how the UK and the US could make a trade deal to enrich both Brits and Americans alike seems to have whipped up outrage, faux or otherwise, about chlorinated chicken, the NHS, and the evils of America.  The hysteria on twitter and other social media is remarkable.  It is as if Remainers fear that the White House's readiness to strike a deal with the UK will make Brexit even more likely to happen on October 31st.
Is there a word for hatred of everything America and of Americans?  Certainly US-phobia among some is as misplaced, prejudiced, and plain wrong as anti-Semitism and Islamophobia.
Fortunately, in Woody Johnson, we have one of the most pro-active US Ambassadors we have ever had in London.
His messages on twitter are worth reading.  He has posted tweets with pictures of the Red Arrows over Chicago and now Boston saying "I don't tire of seeing photos of the Red Arrows in action in the US – they've now reached Boston on their north America tour!"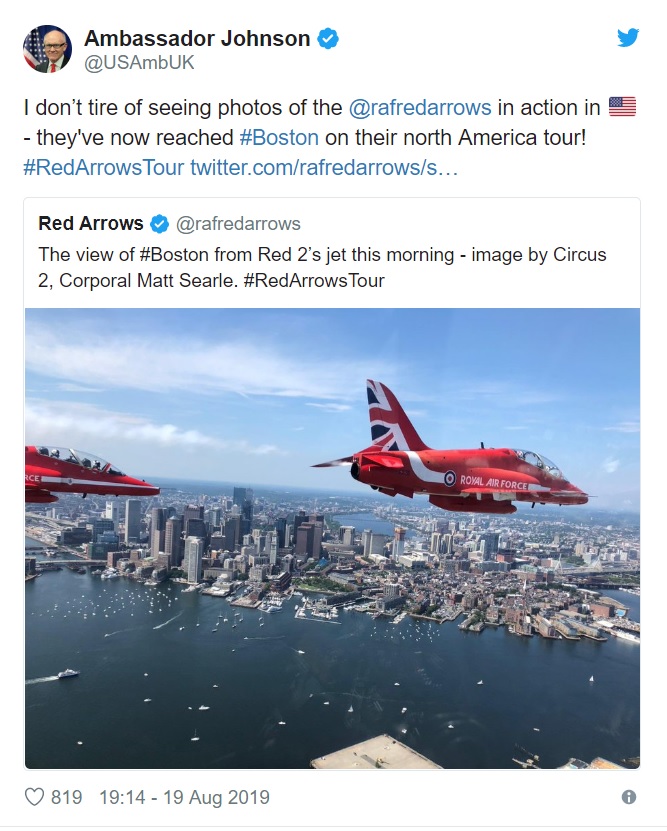 Sure enough, all sorts of people have come back with ideas and he displayed "a heat map based on your suggestions of where I should visit next in the UK – looks like North Wales & Merseyside were the most popular ideas".  I shall have to invite him to visit Lichfield!
Earlier this month, he posted a challenge and a question "Britain really is GREAT!  I am so impressed by the people and their optimism as I travel around the UK.  Here's where I've been…" And he posted a map and then asked "Where should I go next??"
The facts are clear.
In areas of intelligence and economic cooperation, the links between the UK and the US are built on rock solid foundations.  The so-called 'special relationship' is written large on both countries' balance sheets. And our shared language, culture, legal system, and work ethic make an economic free trade partnership inevitable once we leave the EU.
But more than that.  It is the affection that binds our two countries.  Boris is right to turn westwards following his meetings with Merkel and Macron and pursue a UK-US free trade agreement with President Trump this weekend.