On 9th February 2019
With Valentine's Day almost upon us, Royal Mail has unveiled four 'romantic' postboxes across the UK, with one in Conduit Street in Lichfield, which honour some of the nation's greatest writers on the subject of love.
The postboxes are adorned in quotes from some of the best-loved work of romantic poets and authors Anna Seward, John Keats, Thomas Hardy, and Robert Burns, and are located close to places of significance to the writers. They will be in place for a month.
Michael Fabricant, MP for Lichfield, said: "Despite the wind and rain on Friday (8th February), it was a real pleasure to unveil the Valentine's Royal Mail Post box in Conduit Street, Lichfield by the Market Square.  It is just one of four in the whole country.  Covered in hearts and poems from Anna Seward who lived in Lichfield in the 18th Century, this romantic post box must be used for sending sweet Valentines for February 14th.  An email just isn't the same!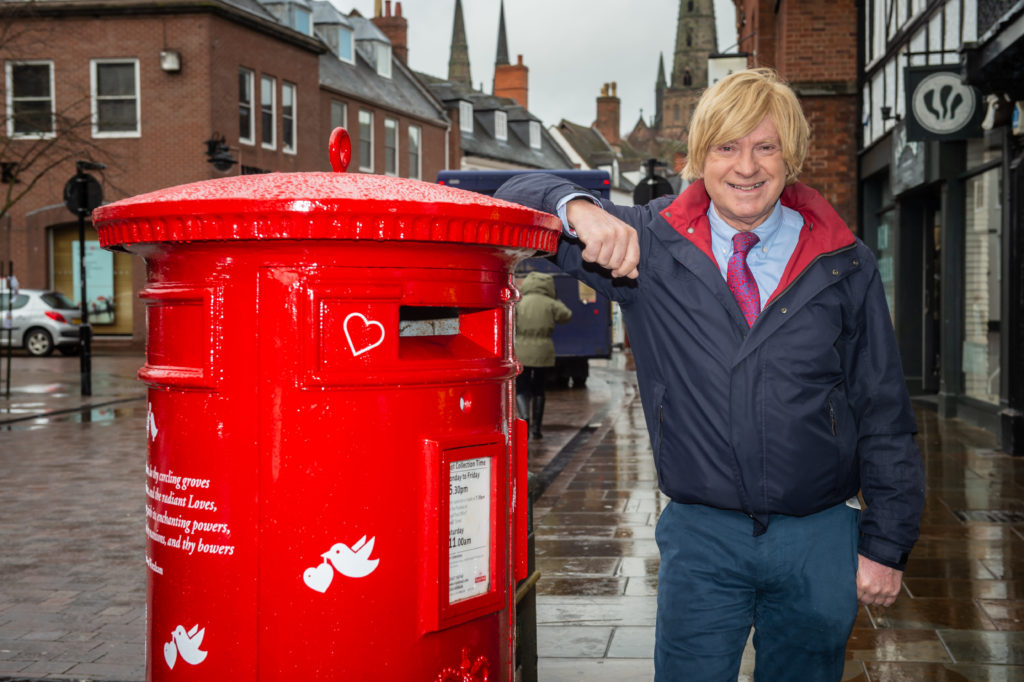 "Like every year, I will be anxiously waiting by my letter box next Thursday though, sadly, the cards never seem to come……"
The four boxes hope to encourage lovelorn wordsmiths to send their own literary masterpieces in the form of love letters and Valentine's Day cards this year.
Mark Street, Head of Campaigns at Royal Mail adds: "As one of the guardians of the written word, we relish the opportunity to celebrate the life and times of some of Britain's most treasured writers. With such a rich history of producing some of the most famous romantic works of all time, it seems only fitting that their work is honoured on some of our iconic postboxes."
The four postboxes are situated in the following locations:
Anna Seward (Lichfield): Conduit Street, Lichfield, Staffordshire, WS13 6JR. Anna lived in Lichfield for much of her life.
John Keats (London): North End Way, London, NW3 7ET (on Hampstead Heath). Keats lived in Hampstead for much of his life.
Thomas Hardy (Dorset): Cuckoo Lane, Higher Bockhampton, Dorset, DT2 8QJ (close to Hardy's Cottage).
Robert Burns (Ayr): Murdoch's Lone, Alloway, Ayr, KA7 4PQ (Close to Burns Birthplace Museum). Burns was born in Ayr.