On 1st February 2019
The Prime Minister has recognised Carol Trigg, from Burntwood, for supporting St John Ambulance and her certificate were presented by Michael Fabricant on 1st February.
Michael, her MP, says "Carol has been a member of St John Ambulance for nearly 50 years, delivering first aid in the community and running large teams of volunteers.
"After a deterioration in her vision in 2012, she moved from her role as a unit manager to become a training specialist. She now oversees the volunteer units in South Staffordshire and helps maintain standards and training for all volunteers. Since losing her sight, Carol set up a self-help group in her local area for other visually impaired people and their carers. The meetings are held monthly in a local church, and the programme includes speakers, information sharing and varied activities.
"I have met Carol before in 2016 when she came to Parliament to show me the work of her Guide Dog, Flora.  We campaigned together to highlight legislation enforcing taxi drivers to accept Guide Dogs into their cabs.  Some cab drivers in the West Midlands refuse – and that is against the law."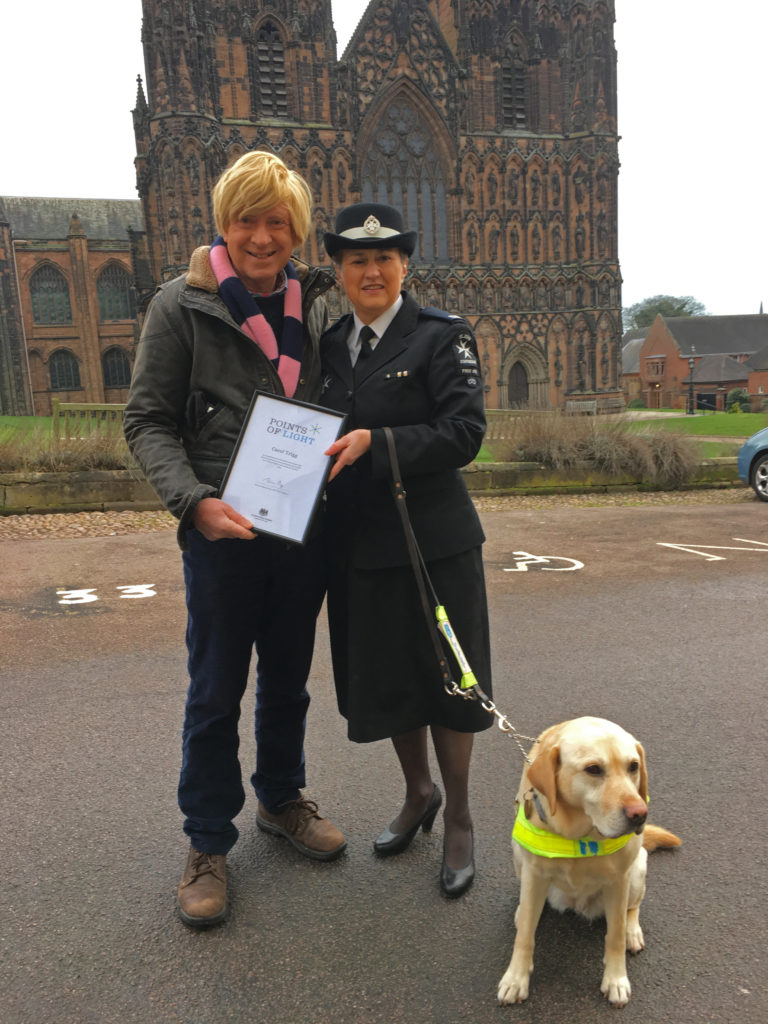 Michael Fabricant with Carol Trigg and her Guide Dog Flora
with her Point of Light Certificate
Carol is the latest recipient of the Points of Light award, which recognises outstanding volunteers who are making a change in their community and inspiring others. Each day, someone, somewhere in the country is selected to receive the award to celebrate their remarkable achievements.
In a letter to Carol, Prime Minister Theresa May said:
"Your dedication to supporting 'St John Ambulance' for nearly 50 years has been truly remarkable, and has inspired people from across Staffordshire to volunteer for the charity and provide vital first aid cover. You should feel very proud of the way you are sharing your own experiences of sight loss to offer specialist support to individuals with visual impairments, and those who care for them."
Carol says:  "It was a total surprise, out of the blue, to be informed that I had been recommended for the Points of Light award for my voluntary work with 'St John Ambulance'. Like many others, I have been a member of St John since joining as a cadet, in my case at age 11, and I have gained many skills from participation in the organisation as a volunteer at different levels and in different roles, which have helped me in my working and social life. It is humbling to be selected from among many worthy volunteer colleagues. I continue to be involved as a trainer and have the privilege therefore of meeting young people who are starting on their St John journey."
Michael adds:  "Carol is the 1100th winner of the Points of Light award, which has been developed in partnership with the hugely successful Points of Light programme in the USA. Regardless of whether it's a doctor restoring local monuments in her free time, a father teaching young people life skills, or a local musician giving a voice to lonely people, the Points of Light award honours shining examples of volunteering across the UK.
"The Points of Light awards recognise outstanding individual volunteers, people who are making a change in their community and inspiring others.  The Prime Minister makes daily announcements of the winners to celebrate, encourage and promote volunteering and the value that it brings to the country.  If people know someone who could be a Point of Light they should contact me or write to the Prime Minister at 10 Downing Street."
Link to  Point of Light