On 15th January 2019
The Telegraph
14th January 2019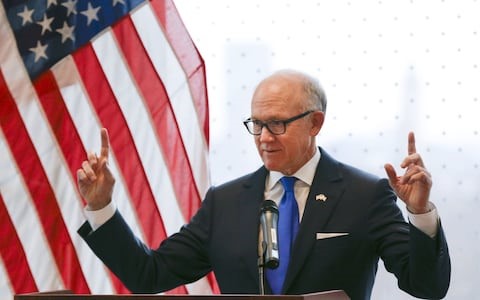 United States Ambassador to the United Kingdom, Woody Johnson CREDIT: ALASTAIR GRANT /AFP
Woody Johnson has stiffened my resolve not to vote for the Withdrawal Agreement.
Let me explain. Last month, the Prime Minister and I sat down in her private office in the House of Commons; a dark room, completed in Pugin gothic style if not splendour. She looked tired as she sat on the sofa and I couldn't blame her. She had been meeting one MP after another singly and in groups for days trying to persuade them to vote for the Withdrawal Agreement.
I wasn't in to see her to discuss my vote, we were discussing a different matter.
But while I was there, I mentioned to the PM as we discussed the amendment that the indefinite time scale of the backstop was my only personal concern.  That was completely true at the time.
Indeed, I am less bothered about the one-off £39 billion payable – after all, around £100 billion was in discussion at the start of the negotiations – even though many members of the ERG are concerned about the amount.  It is cheap at the price.  My prime concern is our national sovereignty and the ability to chart a course of global trade expansion based on a series of comprehensive free trade agreements after Brexit.
Back in November, Liam Fox, the eurosceptic International Trade Secretary, could not have been clearer in his assurances to me and others:
"The deal we've reached will give us a firm and stable base on which to leave the EU and build this country's global future, a future that still encompasses Europe, of course, but also the wide fast-growing markets beyond, with all the opportunity that entails… We will use our independent trade policy to negotiate new trade agreements".
This chimed with my own global vision based on years of negotiating sales agreements with public and private broadcasters in some 48 countries around the world.  I can see the opportunity.
But I can't anymore.
Our single biggest trading partner, the United States, has poured ice cold water on all this. Woody Johnson, a businessman – so he knows something about international trade agreements – and the US Ambassador to the UK, was crystal clear.
Speaking on Radio 4's Today at the end of December he said:
President Trump "is looking forward to and hoping that the environment will lead to the ability of the US to do a quick, very massive bilateral trade deal that could be the precursor of future trade deals with other countries around the world for Great Britain that will really take you way, way into an exciting future.

"We are still going through the stages of deciding where exactly the country is going. If it goes in a way that allows these kind of agreements to occur then I think that will be very positive in the president's eyes." But when he was pushed and asked if such a deal would be possible if the Withdrawal Agreement were implemented, his answer was stark: "It doesn't look like it would be possible."
And President Trump backed him up saying:
"If they do a deal like that (the Withdrawal Agreement), we would be dealing with the European Union instead of dealing with the UK, so it will probably kill the deal"
But it is not just the less than diplomatic United States Administration who have been clear about this. While other countries have been unwilling to cause upset by insensitively commenting on Britain's deal and so inflame Parliamentary debate, recently retired foreign diplomats have been under no such constraint.
Alexander Downer who retired last year as Australia's High Commissioner to the UK was equally blunt:
"How the customs relationship with the EU would work could be a problem for [Australia], because if we exported something to the UK and some of it gets re-exported to the EU or it gets processed and the processed product gets exported to the EU, then that begs some questions about what the tariff arrangements would be for our initial export to the UK… So it wouldn't be impossible to negotiate a free-trade agreement, but it would be a lesser agreement"
And Sir Lockwood Smith, who until 2017 was New Zealand's High Commissioner, was dismissive.  Talking about The Comprehensive and Progressive Agreement for Trans-Pacific Partnership, a trade agreement which includes Australia, Canada, Chile, Japan, Malaysia, Mexico, New Zealand and others, and of which Japan, Australia, and New Zealand have all publicly stated they wish the UK to join, he said:
"The CPTPP is the largest free trade agreement in history, covering both goods and services. Apart from lowering and in most sectors eliminating tariffs, it also reduces non-tariff barriers to trade – regulatory barriers behind the border that often delay if not prevent trade.

"If Brexit results in the Chequers approach" (which it would under the Withdrawal Agreement), "with the regulations dictated from Brussels, it's difficult to see how the UK could meet these important requirements."
So my dream of a global trading Britain with the brightest of futures would be dashed if the Withdrawal Agreement were passed.  That's why I cannot vote for it.
That first great English global trader and privateer, Sir Walter Raleigh, would be turning over in his grave.