On 1st July 2018
MICHAEL FABRICANT
Sun., July 1, 2018
Although I am a British Member of Parliament, I will be celebrating Canada Day.
Once a British dominion, Canada has matured into a vibrant, prosperous country. In the U.K., we are proud to call Canadians our friends.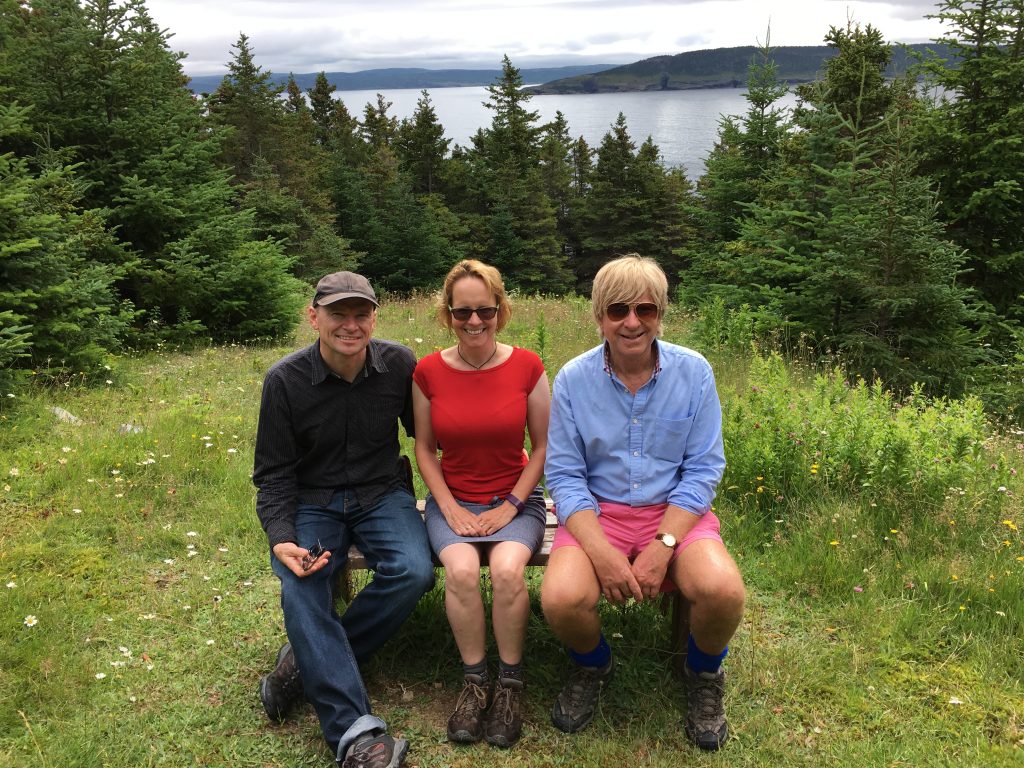 British MP Michael Fabricant, right, on a hike near St. John's, Nfld.,in 2016 with
friends Geoff Woodland and Catherine Street.  (MICHAEL FABRICANT PHOTO)
We think Canadians are a famously polite people. In many ways, it's a country that is almost impossible for anyone to dislike.
A recent YouGov poll in the wake of U.S. President Donald Trump's public spat with Prime Minister Justin Trudeau, has shown that an overwhelming majority of Americans (79 per cent) similarly consider Canada to be a friend of the United States, while only 8 per cent see Canada as "unfriendly."
On Canada's birthday, perhaps now would be a good time to reflect on why it is so beloved by its neighbours south of the border, and what lessons Canada can teach us here in the U.K.
Canada is a Commonwealth realm, and we share the Queen as head of state. A strong ally of the U.K., Canada has stood alongside us in virtually every major conflict over the past century, from the battlefields of the Somme and the beaches of Normandy to the rugged mountains of Afghanistan and the skies above Libya.
Had the tides of history flown in a different direction, Britain and Canada might have even merged into one at some point. It has been speculated that had Britain fallen to the Germans in the Second World War, the Royal Family may have been evacuated to Canada.
Geographically, it's the closest Commonwealth realm to us; Newfoundland — a province I know well as I have friends in St John's whom I visit — is but 5 and a half hours flying time of London and just 3½ hours behind GMT.
While exotic Australia, which is home to well over a million British citizens, rightly receives much affection from us Brits, but we should focus on Canada just as much.
Our shared history undoubtedly bonds our two nations together. But Canada is also a liberal, compassionate and forward-thinking country, which often sets an example for both the U.K. and the U.S.
Canada first legalized same-sex marriages in 2005, long before most other countries, and at a time when several American states passed laws specifically banning them.
Similarly, Canada has legalized medical marijuana, in contrast to the U.K., where we still persist with draconian drug laws that needlessly inflict extra pain and suffering upon the sick.
Unlike many other Western countries, Canada has also recently permitted euthanasia for the terminally ill, but has had the foresight to regulate it tightly to prevent the system from being abused.
And while I may not agree with Justin Trudeau on every issue, he has spoken about his desire for a "seamless" trade deal between Canada and the U.K. as soon as we leave the EU.
Negotiating such a deal is vitally important, as the Canadian economy is deceptively large: ranked 10th in the world, ahead of countries such as Russia, Spain and Mexico.
Gaining more access to the Canadian market will thus be key to achieving British ambitions of being a global trading hub post-Brexit. The U.K. is already Canada's third largest trading partner, but there's every reason why we can trade with each other even more in future.
Diplomatically and culturally, Canada also punches above its weight much in the same way the U.K. does.
Despite a population of just 37 million, it enjoys an enormous degree of soft power and influence. No doubt its knack for producing a disproportionate amount of top movie stars (William Shatner, Rachel McAdams, Keanu Reeves, Ryan Reynolds, Kiefer Sutherland) and world class musicians (Shania Twain, Céline Dion, Drake, Justin Bieber) has played a part in that.
More pressing, however, are the lessons we can learn from Canada in how to heal the divisions brought about by passionate referendum campaigns.
In 1995, the province of Quebec rejected independence by the narrowest of margins, 50.6 per cent to 49.4 per cent. Far slimmer than our own EU referendum result. Although the independence issue has not completely evaporated, Canada as a whole has managed to move on and remain united.
Besides the language divide between English and French, Canada is also home to a large number of immigrants, with more than 20 per cent of the Canadian population not born in the country. By comparison, approximately 9 per cent of the British population is foreign born.
Nonetheless, Canada has been able to integrate its diverse population successfully, all while maintaining and protecting religious and cultural freedom.
Aside from the bizarre practice of putting milk in bags, Canadians seem to know what they're doing!
Canada's track record for good governance thus makes the recent tensions with the U.S. even more disappointing.
Trump is not quite the demon some in the media make him out to be, but his remarks about Trudeau and his decision to impose tariffs on Canada were wrong. Canadians are notoriously mild-mannered, but even they have their limits.
The point here is not to hold up Canada as some sort of utopia, or superior to the U.S. and the U.K. in every instance. Instead, it is to highlight what we could learn from Canada, and why it is cherished by so many Americans and Brits alike.
It is high time my fellow Brits stopped viewing Canada as "America junior" and instead see it for what it is — a wonderful country with a proud history and a bright future.
On this side of the Atlantic, many urge America to "be more like Europe." I would instead say that both of us should "be more like Canada."