On 9th June 2018
Michael Fabricant says "With all the heartache, blighting of properties, and disruption to our daily lives to come, it's time to be getting back something from HS2 – and there's a way to do it!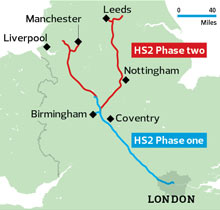 "The HS2 Community Environmental Fund is little known as yet but aims to pay back the community in part for all the damage it will suffer with the construction of HS2 and damage to the environment.
"Woodhouse Farm and Garden in Fisherwick near Lichfield which assists young people are the first to benefit from this scheme in our area with a £10,000 grant to develop a multi-functional indoor space for use as a learning, meeting and community space throughout the year. The new venue will offer somewhere warm and dry to hold indoor events or provide an alternative venue if weather isn't good enough for outdoor events. There will be a new enclosed kitchen suitable for supporting a small café project. The cafe will be a self-financing volunteering project which will offer skills and experience to those who are unemployed, need support and will help to building confidence.
"I now want other local groups to apply for grants.  As well as the HS2 Community Environmental Fund, there is also the HS2 Business and Local Economy Fund.
"We should take advantage of these!" adds Michael.  Further information can be found here: