On 28th April 2017
At a packed meeting of the Lichfield Conservative Association on Friday night (28th April) at the George Hotel in Lichfield, Michael Fabricant was re-adopted as the official Conservative Party Candidate for the Lichfield Parliamentary Constituency at the General Election on June 8th.
"It's wonderful and a great honour to be standing again for the Lichfield and Burntwood constituency", said Michael at the meeting. "It's a winning love affair. I love the Lichfield constituency and I think the feeling is mutual!" But Michael warned the meeting not to be complacent. "Ignore the polls. The only poll that counts is the one on June 8th. And much can happen in the five weeks between then and now.
"I look forward, if I am re-elected, to continuing to work hard for the people of our part of Staffordshire" Michael adds.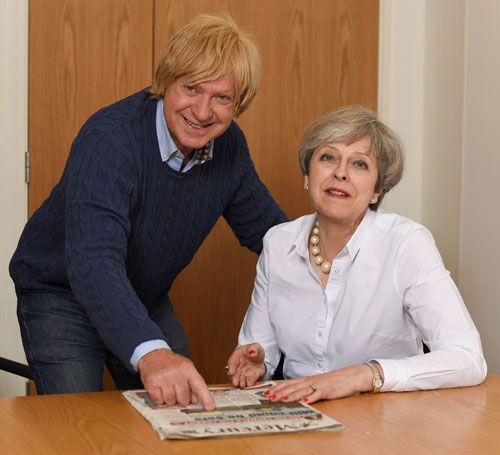 Photograph shows Michael with the Prime Minister looking at local newspaper.