On 8th November 2014
Michael Fabricant presented a cheque for £2,122 to the Mercian Regiment Benevolent Fund on Friday 7th November outside the Bowling Green pub in Lichfield. "This gift which was raised from proceeds from Lichfield Rocks with support from the Lichfield Health & Fitness Club and the Bowling Green Pub is so welcome at this Season of Remembrance. The money will be used by the Mercian Regiment Benevolent Fund to indeed be Help for Heroes. It's great to see an event like Lichfield Rocks providing not only enjoyment to our community with a wealth of musical talent, but also raising money for such important local causes. Lichfield does indeed rock" says Michael Fabricant.
Kyle Perry, organiser of the festival and front man of co-headliners Stubblemelt, who performed a host of songs from their new album 'Gypaetus Barbatus', said he was 'thrilled' with the amount of money the event helped to raise.
"It was fantastic to see so many people attend Lichfield Rocks, supporting both great local music and a very worthy cause. The atmosphere throughout the day was incredible and people travelled from all over the country to be a part of the fun. It is also great to see our local MP Michael Fabricant commend what we are trying to achieve here and appreciate the hard work we put in.
"All the acts involved put on a brilliant performance and the fact we raised such an impressive amount for the Mercian Regiment Benevolent Charity is testament to both the event itself and the generosity of the general public. It's a testament to the good folk of Lichfield & the friendly staff at The Bowling Green that makes this such a great success and now attracts national artists like Lucy, I'm already looking forward to next year's Lichfield Rocks festival!"
Now in its second year, Lichfield Rocks is becoming a very popular event in the Midlands music calendar and over the course of the last two years. Last year's event also raised over £2,000 for St Giles Hospice in Whittington.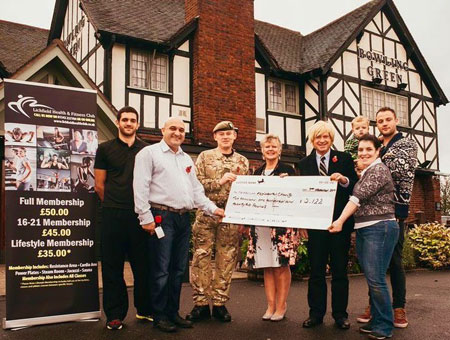 Pictured left to right : Dominic Mcdermott (Lichfield Health & Fitness), Mohsen Zaami (Manager of the Bowling Green), Warrant Officer Stuart Davison & Helen Rayson (Mercian Regiment), Michael Fabricant, Angela Gibson (Assistant Manager of the Bowling Green), Kyle Perry (Event Organiser) & son Regan