On 18th October 2014
Michael Fabricant has been appointed Squadron President of the 1206 (Mercian) Squadron Air Training Corps in Lichfield. "I am genuinely delighted and honoured to have been made Squadron President" says Michael. "The Squadron provides real focus for the Cadets and can have a justifiable pride in what they do.
"The Squadron is flourishing and with a recent growth in cadet numbers to 64, the Lichfield Squadron is now the largest in Staffordshire. It has enabled the formation of its own Corps of Drums, as well as enjoying huge success in the areas of flying, Duke of Edinburgh, sports activities, shooting and leadership. All these activities are designed to increase personal confidence and leadership and team building skills which helps get young people of Lichfield set for their chosen career when they leave school or move on to college or university or, indeed, join the Royal Air Force.
"The Corps of Drums, incidentally, is so professional, I once likened them to those of the Royal Marines – and I wasn't exaggerating" Michael adds.
Flight Lieutenant (VR) Chris Kelly, the Officer Commanding says "The Squadron is supported by a dedicated team of staff who epitomise the Squadrons motto, 'Laboris Gloria Ludi' – work hard, play hard and as Officer Commanding it gives me great pleasure to welcome our local MP, Mr Michael Fabricant in to the 'family' as Squadron President. Mr Fabricant has supported the Squadron for a number of years and his presence as Squadron President will help increase the units profile in the local community and contribute further to the future success of the Squadron."
And Nick Manser, Chair of the Squadron Civilian Committee says: "I am delighted that Michael has accepted the appointment of Honorary President of the Squadron Civilian Committee which recognises the support Michael has previously supplied to the Squadron and its work in providing many varied activities for our young people of Lichfield."
In early 2014, 1206 (Mercian) Squadron Air Training Corps was amongst 36 finalists out of nearly 1000 units across the UK competing for the national title of best Squadron in the Air Training Corps and in July was officially crowned best Squadron in Staffordshire.
However, only limited funding is available to the Squadron through the official route and a significant proportion of Squadron funds are generated by Squadron itself, either through donations, local grants, or by fundraising activities. This is where the Squadron's Civilian Committee comes in to help fundraise in order to finance cadet activities and the purchasing of associated equipment, i.e. mini-bus, new computer equipment and camping equipment. The Civilian Committee also acts in an advisory and governance role and ensures that the financial management are run according to the relevant regulations.
Michael adds "The Lichfield Air Cadets meet every Monday and Wednesday evenings from 1900 – 2130 at the Squadron hut on Cherry Orchard. Email them at 1206@aircadets.org for joining and other information."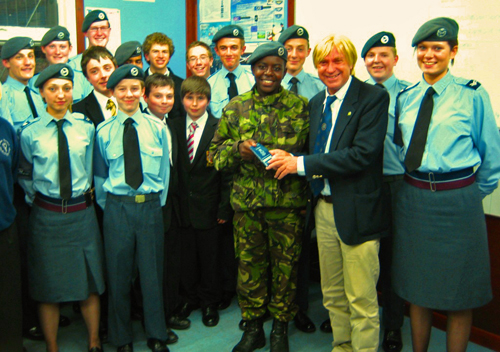 Photo shows Michael with some of the cadets of the 1206 (Mercian) Squadron Air Training Corps in Lichfield