On 10th December 2012
Nationwide research, carried out by the Forum of Private Business into the speed at which councils in England pay supplier invoices, saw Lichfield District Council named as one of the top councils in the country.
The district council came fourth in England and first in the West Midlands for paying its suppliers in fewer than ten days – a target the government has asked all councils to aim for to help struggling firms improve their cash flow.
The survey revealed Lichfield District Council paid 94% of its bills within ten days and 100% of all bills within 30 days.
To celebrate its achievement, the Forum of Private Businesses gave Lichfield District Council a special award.
Lichfield's MP, Michael Fabricant, was on hand to present the certificate to the council's Assistant Cabinet Member for Finance Revenues & Benefits at a special presentation on Friday 7 November 2012.
Michael Fabricant MP commented: "Having run a business before I became an MP, I am only too aware that cash flow, even more than profit, can make or break a company. Crucial to that is prompt payment by customers and I am pleased to learn that Lichfield District Council has been playing its part in keeping businesses, large and small, trading successfully. I was therefore delighted to be asked to present this award."
Councillor Christopher Spruce, Lichfield District Council's Assistant Cabinet Member for Finance Revenues & Benefits, said: "I was proud to accept this award on behalf of the council. It's in recognition of a great finance team that works hard to make sure we pay our bills on time. This is especially important in the current economic climate, as prompt payment helps businesses to manage their cash flow, and can sometimes make the difference between a business surviving or failing."
The survey of local government was carried out by The Forum of Private Business and covered county, district and unitary councils across England.
Robert Downes, Policy Advisor for the Forum of Private Business, said: "Late payment kills small business – it's as simple as that. In the current climate, with credit scarce, healthy cash flow is essential for any business to function. That's why it's crucial that councils pay as promptly as they can, and Lichfield District is certainly doing that. To pay 94% of their invoices in fewer than ten days is refreshing to see, and deserved of recognition too.
"There are plenty of councils who could learn a lot from Lichfield District Council's accounts department when it comes to settling up fast."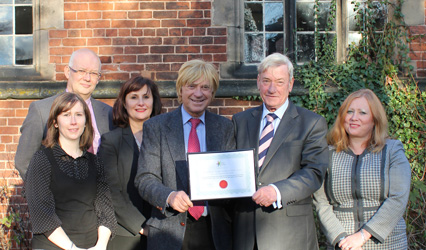 Photograph shows Michael Fabricant (left) handing certificate to Cllr Chris Spruce.