On 6th December 2012
The Royal British Legion has thanked Michael Fabricant, for making the time to meet new Legion West Midlands Area Manager, Jane Britton, in Parliament.
Michael says "The Legion is the leading provider of welfare for the Armed Forces community in Lichfield and the rest of the West Midlands so I was really interested to attend an event in Parliament dedicated to seeing some of the Legion's work in the area. I used the opportunity to discuss with Jane Britton the changing face of Armed Forces welfare provision in the local community, and learn more about the Legion's work developing Community Covenants locally.
"The Royal British Legion provides care and support to all members of the British Armed Forces, past and present, and their families. That care and support can come in many forms, whether it be direct financial aid; benefits and money advice; adventure holidays in the UK for Armed Forces families who need a break; or helping an elderly or disabled veteran with a trusted handyman facility to help with odd-jobs in the home. These are just some of the many, many services the Legion offers as way of support to the Armed Forces community."
In 2011, the Legion spent £90 million nationally on its health and welfare delivery work. In addition it has committed £50 million over ten years to support the Ministry of Defence's programme of recovery for wounded, sick and injured Armed Forces personnel. £30 million of this is committed to the Battle Back Centre (Lilleshall) and £20 million will go towards five Personnel Recovery Centres, four in the UK and one in Germany.
Ms Britton, the Legion's Area Manager, said, "It was great to see Michael; we really appreciated him making the time to drop in. Many people don't realise that we spend nearly £1.7 million a week on helping both the Serving and ex-Service communities, plus their families, so we were delighted to tell him about the range of services we provide. We help everyone from a child of a serving family needing an adventure break to a young entrepreneur needing advice and assistance to be his own boss."
Michael adds, "I was really pleased to meet my new local Area Manager. Jane made it clear that the Legion's work does not stop on 11th November. Providing assistance for members and former members of the Armed Forces who have been injured, or are struggling in any other way, is a 365-day-a-year job. It is vital that we as a nation honour the sacrifices made by our Armed Forces, and I'm proud to support the work of The Royal British Legion."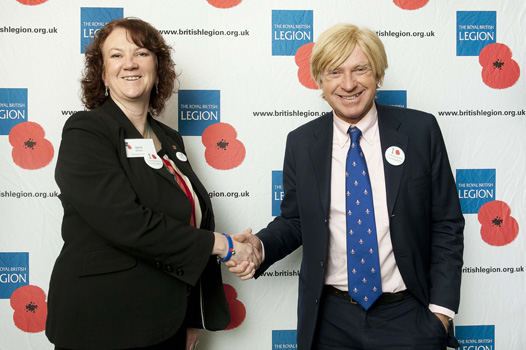 Photograph shows Michael Fabricant with Jane Britton.