On 11th September 2012
Michael Fabricant met Richard Parry, Managing Director of FirstGroup's InterCity West Coast bid, today (Tuesday 11th September) to seek reassurances that standards of service will not fall if the rail franchise is transferred from Virgin Trains to First. The decision to award the franchise to FirstGroup is currently subject to legal action from Virgin.
"I made it very clear to Richard Parry that all existing train services between Lichfield Trent Valley and London Euston and between Lichfield Trent Valley to Crewe and beyond must be maintained if the franchise is transferred to FirstGroup" says Michael Fabricant. "This includes both their weekday and weekend services both in terms of their frequency and in the journey times. I explained that the economic future of Lichfield depends to some extent on a regular and fast rail services direct to London from Lichfield Trent Valley. He understands this and mentioned that his wife is originally from Lichfield and her parents still live in the City. He has an affinity with the area.
"He told me he hopes to improve services from Lichfield to London and the North over time. In addition, he plans to introduce more cost-effective ticketing prices and improved seating on the Pendolino trains.
"He is keen to engage with local groups and has already agreed to be the after dinner speaker at the Lichfield Commuters Club dinner held in the House of Commons. I am hopeful that by 2015, we will see improved services on the Pendolino."
Richard Parry says: "I'm pleased to have been able to assure Michael Fabricant, and his constituents, that FirstGroup will maintain the current service frequency and journey times to London (and services north) from Lichfield Trent Valley station. We will also be working, through a new alliance with Network Rail, to improve punctuality and reliability on the route.
"Under our plans for the InterCity West Coast service, passengers from Lichfield will enjoy fully refurbished trains with new more comfortable seating throughout, enhanced wifi free for all, and improved mobile phone reception, by the end of 2015; we will also maintain and enhance on board catering.
"I'm looking forward to working with Michael and in partnership with local groups like the Lichfield Commuters' Club to understand their priorities, and to deliver the high quality services they expect when we start our franchise on 9 December."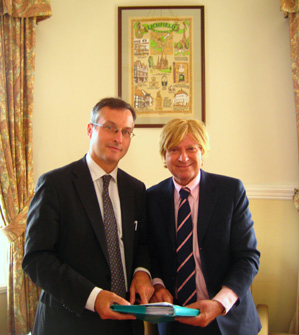 PHOTO shows Michael Fabricant with Richard Parry in Michael's House of Commons office on 11th September.