On 11th February 2011
Michael Fabricant met members of the Committee of Whittington Heath Golf Club on Friday 11th February to discuss the impact of the high speed train line on the Club.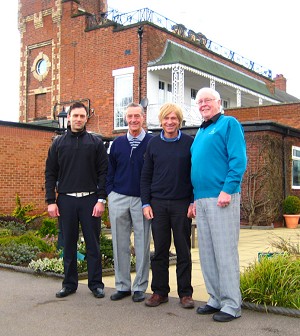 Michael says: "If HS2 does go ahead, it will affect this Club badly unless some changes to the route are made. The Club was founded in 1886 and the Club House is of historic importance. It was the site of Lichfield Racecourse and you can still see the 19th Century Grandstand. After a tour of the golf course and the club house, I met with the Club's Committee and made a number of suggestions. Firstly, I said that they should investigate whether the Club House should be listed as a building of architectural importance. This could help the argument that the line should be moved slightly westwards away from the Club House which would otherwise be demolished.
"Secondly, I offered help – as I will for all my constituents – to maximise the compensation the Club would receive from HS2. And finally, I said that I would help the Club acquire land from the Ministry of Defence adjoining the golf course which would enable this historic Club to continue.
"But I also said that while it is vital for the Club to plan ahead, an alternative solution may be found to constructing HS2. The project is still a long way ahead."
Photograph shows the historic grandstand of the Club House of Whittington Heath Golf Club and (l to r) Mike Raj (Coach), Trevor Ashforth (President), Michael Fabricant, and John Tipper (Captain).