On 25th January 2011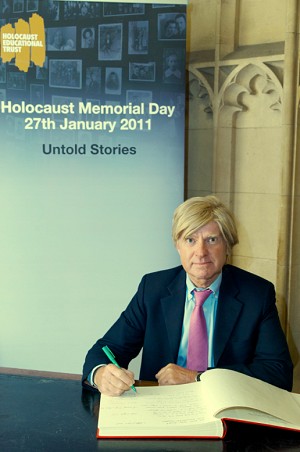 In common with most other MPs, Michael Fabricant today pledged his commitment to Holocaust Memorial Day by signing a Book of Commitment in the House of Commons to honour those who perished in the Holocaust. "I wrote in the Book: 'Niemals Wieder – Never Again'", says Michael.
With 27th January marking the 66th anniversary of the liberation of the Nazi concentration and extermination camp, Auschwitz-Birkenau, the Holocaust Educational Trust placed a Book of Commitment in the House of Commons to give MPs the opportunity to remember those who were persecuted and murdered during the Holocaust – and to support the sharing and safeguarding of 'Untold Stories', learning from survivors' experiences to help create a future free from hatred and prejudice.
In doing so, Michael paid tribute to those remarkable individuals who survived the appalling events of the Holocaust and have since dedicated their lives to educating younger generations about the dangers of allowing persecution and intolerance to take hold in society.
On and around Holocaust Memorial Day, schools, local communities and faith groups from across the UK will join together to mark Holocaust Memorial Day. Thousands of events are being held across the country to commemorate all those who suffered at the hands of the Nazis during the Holocaust and in subsequent genocides. The aim of the day is to motivate people – individually and collectively, to ensure that the horrendous crimes, racism and victimisation committed during the Holocaust are neither forgotten nor repeated.
Karen Pollock, Chief Executive of the Holocaust Educational Trust, said: "We are delighted that Michael is supporting Holocaust Memorial Day. As the number of survivors dwindles, remembering the Holocaust and passing on their testimony is more crucial than ever. Reflecting on 'Untold Stories' helps give back voices to those who were persecuted and reinforces the contemporary lessons that can be learnt from this dark period in our history."
Photograph shows Michael Fabricant signing the Book of Commitment in the House of Commons.