On 17th July 2010
Michael Fabricant joined officials from the Environmental Health Team of Lichfield District Council on Friday evening (16th July) to inspect an industrial facility (the Tesco Distribution Centre at Fradley) and a local restaurant (the Lee Garden Cantonese Restaurant in Lichfield).
"I was hugely impressed with the work of the Environmental Health Team" says Michael "which advise companies on minimising risk to their employees and their customers. Many lives and injuries have been saved as a consequence. They do valuable work for the community.
"As well as visiting a number of locations with the team and learning about some of the work they do, I heard about future plans for Lichfield's innovative website 'Rate My Place'. By logging onto www.ratemyplace.org.uk customers can see for themselves exactly how safe – or not – some restaurants are behind the glitz of the dining rooms. Future plans might include adding menus to the site.
"I was pleased that the Lee Garden has won a 5 star rating. Less encouraging is one Indian restaurant in Lichfield which failed to win any stars at all for food safety or hygiene. You can see which one it is by checking out www.ratemyplace.org.uk and doing a search."
Accompanying Michael Fabricant on the visits were some of the Environmental Health Team including Graham Hakes, Cllr Mike Wilcox Leader of the District Council, and Cllr Ian Pritchard District Cabinet Member with responsibility for Environmental Health.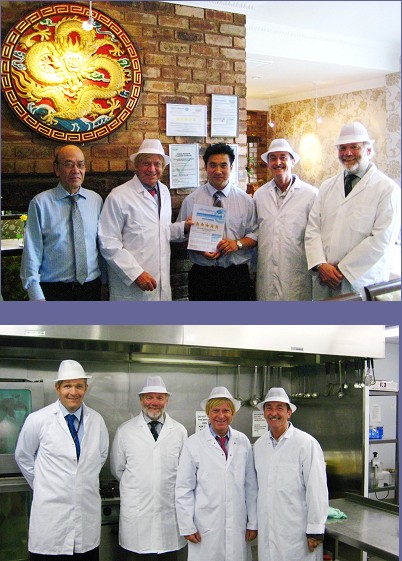 Photograph 1 shows the Lee Garden Restaurant and the 5 Star Food Safety Certificate with (l to r) Restaurant Managing Director Tony Cheung, Michael Fabricant, Restaurant Manager Ken Chang, Cllr Mike Wilcox, and Cllr Ian Pritchard.
Photograph 2 shows the canteen at the Tesco Distribution Centre in Fradley with (l to r) Health Inspector Graham Hakes, Cllr Ian Pritchard, Michael Fabricant, and Cllr Mike Wilcox