On 26th April 2010
Hundreds of people came to Lichfield last Sunday to walk the proposed route of the Lichfield Canal which is currently undergoing restoration by the Lichfield and Hatherton Canals Restoration Trust.
Canal enthusiast, Michael Fabricant, and Patron of the Lichfield & Hatherton Canals Restoration Trust, lead the 4 mile walk which highlighted the work which had been undertaken since the last walk in 2007.
He unveiled an interpretation board at Borrowcops Canal Park which explains how locks work. This board is unique in that it also has an explanation in Braille for the many blind people who enjoy the walk along the restored towpath in Tamworth Road.
Michael said:
"Walking the route makes you even more frustrated about not seeing the canal completed. It goes through the most beautiful countryside and attractive parts of Lichfield. This would be a major boon to the economy of Lichfield and create those tourist numbers that we so vitally need."
Also at Tamworth Road was the recently created drop shaft to take water from the by wash around the lock and this was in water for the very first time since its completion just a week ago.
Despite the threat to the restoration from the High Speed 2 railway route, the Trust is confident that Phase 1 will be completed by 2015 and bring narrow boats back into Lichfield and it is planned to have a part of the canal in water before the end of this year.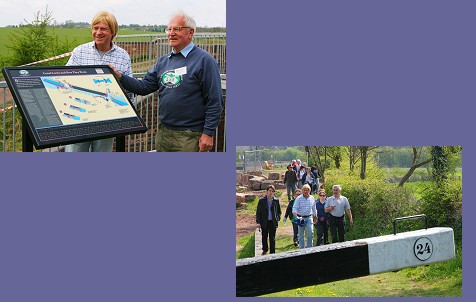 Photos Show:
Left: Michael Fabricant, Patron of LHCRT Right: President of LHCRT Eric Wood after unveiling of the interpretation board.
and
The Walk approaching the Lock on Tamworth Road in Lichfield (yet to berestored). Left: Michael Fabricant, Patron of LHCRT Right: Chairman of LHCRT Brian Kingshott