On 3rd February 2010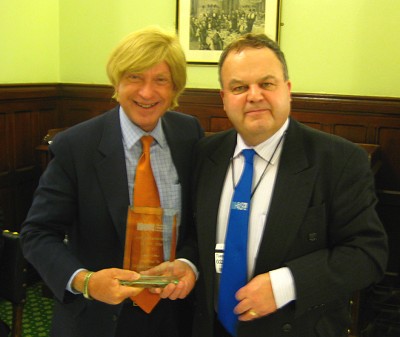 Photograph shows Michael Fabricant receiving the Award from Clive Henderson, the Chairman of the Inland Waterways Association.
Michael Fabricant was awarded Joint Parliamentarian of the Year 2010 by the Inland Waterways Association at a dinner in the House of Commons last night (Tuesday 2nd February). Michael is a keen narrowboater, is Patron of the Lichfield & Hatherton Canals Restoration Trust, and has spoken in a number of Parliamentary Debates on matters concerning Britain's inland waterways. Retiring Labour MP, Bob Laxton, Chairman of the Waterways All Party Group, also received the award.
Michael says: "I am honoured and delighted to have been given this prestigious award. Our canals and rivers generate millions of pounds in revenue from tourism and are a natural sanctuary for wildlife. They need to be maintained and cherished. As I told those assembled: I shall plonk the award on the table when I next go narrowboating with a bunch of my rowdy friends. My next trip is round the Cheshire ring."
Guests at the dinner included Members of Parliament of all parties, regional chairmen and officers of the Inland Waterways Association, and the Chairman and Chief Executive of British Waterways.