On 15th January 2010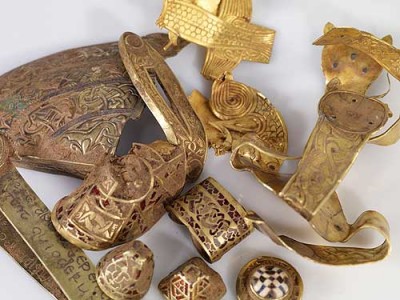 A small part of the Staffordshire Hoard
Michael Fabricant has amended a Parliamentary Motion which calls for the Staffordshire Hoard of recently found gold to be exhibited in Birmingham and Stoke on Trent to be exhibited in whole or in part in Lichfield.
Michael says: "The Staffordshire Hoard was found near Lichfield and relates to the City's importance at the time the Hoard was buried. It should return to Lichfield – preferably all of it, or failing that, in part. There are a number of existing and secure venues where it could be shown including Lichfield Cathedral and the St Mary's Heritage Centre in the Market Square. It would enable the gold to be shown in the correct historical context and would help stimulate the local tourist trade and the district's economy."
Michael's amendment which appears at the end of the Parliamentary Motion which lists Birmingham and Stoke as sites of the exhibition, reads:
"and at a suitable venue in Lichfield, such as Lichfield Cathedral, in recognition of the fact that the Hoard was found in the Lichfield constituency and contains religious artefacts, and that Lichfield was the ancient religious capital of Mercia.".
The original motion states:
"That this House welcomes the launch of the public fundraising campaign to save the Staffordshire Hoard, led by The Art Fund working with Birmingham City Council, Stoke-on-Trent City Council, Staffordshire County Council, Lichfield District Council and Tamworth Borough Council; recognises the national importance of the Hoard as the largest collection of Anglo-Saxon gold ever found on UK soil, which has the ability to shed new light on the lives of Anglo-Saxon people and the historically significant region known as Mercia; notes that the campaign has until 17 April 2010 to raise the required £3.3 million to keep the treasure in the West Midlands, or it may be sold on the open market; and urges parliamentarians and members of public alike to donate to ensure that this unprecedented find is kept together on public display at Birmingham Museums and Art Gallery and the Potteries Museum and Art Gallery in Stoke-on-Trent."
The original motion has been signed by a number of Staffordshire MPs including Sir Patrick Cormack, Mark Fisher, and Joan Walley.