On 17th December 2009
Michael Fabricant joined Santa Claus, Members of Lichfield Round Table, and volunteers from St Joseph's Primary School on Santa's sleigh as it toured Beacon Street and the Gaia Lane area of Lichfield on the night of Thursday 17th December.
Michael says: "Members of Lichfield Round Table are out most nights before Christmas together with charity volunteers and I was privileged to join them and experience for myself the generosity of Lichfield people. All the money collected goes to local charities and to individuals who need help.
"I got a few double takes on the doorstep and I suspect one or two people were wondering exactly what I was collecting money for, but everyone was generous when they saw my Round Table vest and collecting box. And people en route were also particularly kind warming us with hot mulled wine on what was a very cold evening."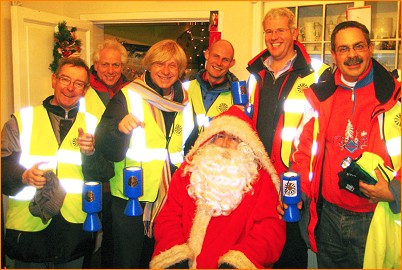 Photograph shows Santa Claus, Michael Fabricant and members of Lichfield Round Table and one of the mulled wine stop-off houses en route in Lichfield.