On 22nd October 2009
"As if we didn't know already, residents in the Lichfield Parliamentary constituency are a highly educated bunch" says Michael Fabricant. A new survey published by the University and College Union (UCU) shows residents of Lichfield to be the most highly educated in Staffordshire when expressed as a percentage of those with a university degree or NVQ4 or better.
Michael adds: "The City of Samuel Johnson continues to set the intellectual tone of the nation – as one can hear every day in the conversation in our coffee houses and local pubs. But this report does illustrate huge variations throughout the country and I recognise that Lichfield has many financially advantaged residents with high aspirations for themselves and their children."
But the UCU point out that our education has become a "postal vote lottery". They say: "The report shows enormous regional variations in educational achievement.
"Of the 20 constituencies with the highest percentage of people with no qualifications, the West Midlands accounts for eight of them and occupies the four bottom spots. Labour MP Roger Godsiff's Birmingham, Sparbrook and Small Heath constituency has the highest percentage of people with no qualifications (37%) with the Business, Skills and Innovation Minister, Pat McFadden's Wolverhampton South East constituency next (36%).
"The other two West Midlands constituencies to make up the bottom four are Labour MP Ken Purchase's Wolverhampton North East (32%) and Chief Secretary to the Treasury, Liam Byrne's Birmingham Hodge Hill (30%). Hodge Hill also has the lowest percentage of people educated to at least degree level – just one in 10. Furthermore, of the 20 constituencies with the lowest percentage of people with degrees, one third can be found in the West Midlands."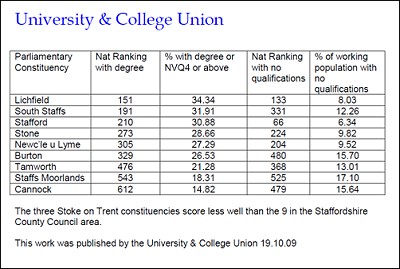 Chart shows results of the survey in Staffordshire with national rankings.