On 28th September 2009
Michael Fabricant joined the Opal Celebrations at Robert Carr Jewellers in Lichfield on Saturday 26th September.
Opal miner John Wheeler exhibited his gems at the store in Lichfield all week and people were given the opportunity to see the colourful stones worth up to £180,000.
John, from Lightening Ridge, Australia, had been mining for 14 years before he hit the jackpot and unearthed the opals. John's wife Leisha uses the stones and has created a stunning range of jewellery.
Michael said: "In a week when the Lichfield hoard of gold was discovered, it's great to see a unique collection of opals in Lichfield. The black opals are the only ones on show in The Midlands. Next time I am in Oz I shall be prospecting!
"It was a real pleasure to meet John Wheeler and it turned out that we have a whole series of mutual connections in Queensland, Australia where he now lives."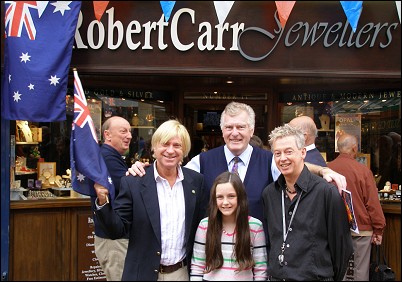 Picture shows (left to right) Michael Fabricant, John Wheeler, Robert Carr and, in the middle, Opal-Rose Garrington a local schoolgirl – her mother adores Opals!