On 27th September 2009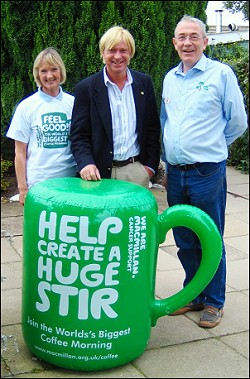 Photograph show Diana and Dave Muir with Michael Fabricant (centre) immediately prior to enjoying a coffee – the proceeds of which went to the Macmillan fund.
Michael Fabricant joined coffee goers at the PlantPlot garden nursery on the Western Bypass in Lichfield on Saturday 26th September to help raise funds for Macmillan Cancer Support. Diana and David Muir have supported the campaign for the last 7 years by organising a coffee weekend at their nursery.
"Diana and David are good people and I am pleased to have been able to support their activities in order to help those suffering from cancer. Many constituents have told me of their personal experiences – all good – of being helped by Macmillan nurses. This is a very worthy and practical charity" Michael Fabricant says.