On 16th July 2009
John Healey, Minister of State for Housing and Planning, has today (16th
July) announced the locations of the first 4 eco-towns and following
local protests, Curborough is not included.
In a written statement, John Healey says: "The new Eco Town Planning
Policy Statement (PPS) that I am publishing today sets out the highest
ever standards for green living, and linked to it I can announce the
first four pioneer locations for England's Eco Towns. These are:
Whitehill-Bordon, St Austell (Clay Country), Rackheath (Norwich) and NW
Bicester, all led or strongly supported by their local authorities who
can see both the potential for their new eco town and the benefit for
existing communities in regeneration, higher quality jobs and new green
infrastructure. Each of these four locations has the capacity to link
well into existing development – as well as the scale to function as a
new settlement. None are self contained developments in the middle of
the countryside."
But his opposite number, Grant Shapps, Shadow Minister for Housing says:
"Gordon Brown's so-called revolutionary eco-town programme is an
eco-con, mired in controversy. Underneath the thick layers of
greenwash, many of these schemes are unsustainable, unviable and
unpopular, but Gordon Brown wants to impose them from Whitehall
irrespective of local opinion. All the low-flush toilets in world can't
make dumping a housing estate on green fields somehow eco-friendly.
"At best, this scheme is a distraction from the more important task of
reducing carbon emissions from our existing housing stock. At worst,
it's a discredited gimmick from a discredited Government that's run out
of ideas and run out of steam."
Curborough was originally highlighted as a location for an eco-town with
a statement that "90% would be sited on the old Fradley aerodrome".
Michael Fabricant pointed out in Parliament that this was untrue that
over 50% would be built on greenfield land currently used for farming.
Later the then Housing Minister issued a formal apology.
Michael Fabricant says: "I strongly opposed the construction of the
eco-town at Curborough and Fradley and the current 'non-eco town'
application for 5,000 homes to be built there is even more
inappropriate.
"I am relieved, however, that the Government has not attempted to
re-impose their plans for an eco town in Fradley. A 5,000 home
development between Lichfield and Fradley would put impossible strains
on our roads, schools, and health service as well as destroying the
countryside to the east of Lichfield."
Protesters against the Curborough eco-town marched through Lichfield.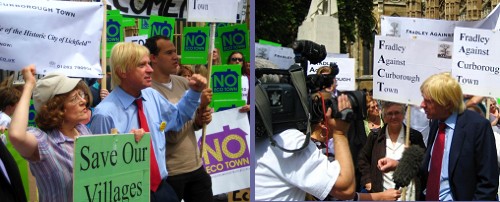 Photographs show Michael Fabricant outside the House of Commons with
local protesters in June 2008.