On 23rd June 2009
In a formal submission to the West Midland Region Rail Development Plan,
Michael Fabricant has again stressed the need for disabled access
facilities at Lichfield Trent Valley Railway station and the need to
re-open for passenger traffic the Lichfield to Burton line.
Michael says: "Lichfield Trent Valley station continues to be a
disgrace with disabled passengers unable to access 3 out of the 4
platforms. It's great if you want to go to Crewe, but not much else –
and God knows what you do if you are disabled arriving back at Lichfield
Trent Valley. And with up to 20,000 visitors expected at the National
Memorial Arboretum in just one week in the run up to Armed Forces Day, a
rail service to the NMA by means of a restored railway station at
Alrewas is even more necessary".
In a letter to the Regional Rail Forum which has invited comments,
Michael has written:-
"I note that under schemes for 2009-2014 there are plans for car park
expansions and for station improvements at Lichfield Trent Valley
Station. I welcome this, but hope that the station improvement plans
will incorporate improved facilities for disabled passengers since there
is a lack of appropriate facilities at this station, with two of the
three platforms inaccessible to the disabled and difficult to access for
those with children and heavy luggage. This is an improvement which
must be implemented sooner rather than later in accordance with the
Disability Discrimination Act.
"I welcome the reopening of the Walsall to Lichfield line as a potential
future scheme, but I am also keen to see the re-opening of the Lichfield
to Burton line for passenger traffic, which would include a new railway
station at Alrewas. The line is already in use for freight traffic and
reopening it for passengers would serve the ever increasing number of
visitors to the National Memorial Arboretum in Alrewas and help to ease
use of the A38 trunk road."
Chris Haynes, Chairman of the West Midlands Regional Rail Forum says:
"With many possible calls on national and local funding, it will be
necessary to prioritise schemes by identifying those which are the most
effective at improving the economic outputs and competitiveness of the
region".
Michael adds: "With the economy weakened, I am not optimistic about
immediate changes. But keeping up the pressure is what it is all
about". Recently, Michael Fabricant invited one of the newly appointed
'Station Tsars' to visit Lichfield.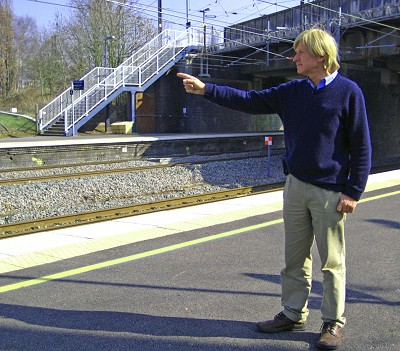 Photograph shows Michael Fabricant pointing out stairs that have to be
climbed to change platform at Lichfield Trent Valley.