On 25th May 2009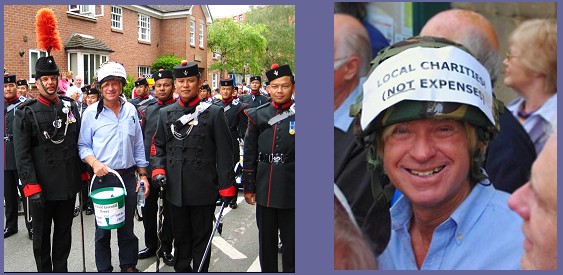 Photographs show Michael Fabricant together with Major Wayne Hopla (left), Director of Music and Captain Sewanta Purja Pun (right) the Assistant Director of Music and Michael Fabricant complete with helmet.
Clutching a collection bucket marked "Collecting for Local Charities and not for my Expenses" and wearing a similar label on a Royal Marines helmet which he wore "for protection", Michael Fabricant joined the annual Bower Parade in Lichfield on 25th May 2009 to collect money for a series of local charities. "The Bower Day was great fun and the crowds were good natured and generous" says Michael.
"Only one person asked me if the money was for a duck house. The weather held out and I was delighted that the Band of the Brigade of Gurkhas lead the procession. I voted for their right to live in England when the Government was recently defeated in Parliament on this issue. It was my privilege to meet some of the Gurkhas in the parade.
"What a coup this was for the Bower Committee. They booked the Gurkhas back in November last year little realising what a campaign would develop for them in the coming months.
"With increasing charges, the Bower now costs around £50,000 to stage so I am delighted with the numbers of people who attended this year. We must keep this tradition going", Michael adds.