On 7th March 2009
Michael Fabricant took time out on Saturday (7th March) to visit the
Enterprise Fair at the Lichfield Garrick where many teams from schools
and colleges in Tamworth and Lichfield districts were demonstrating
their business skills. Each were taking part in Young Enterprise – the
UK's largest business education charity which involves 300,000 students
each year.
Michael says: "This is a fantastic programme involving students from
our schools, giving them a real insight into how business work. If we
are to beat this recession, we will need people like this to start
successful companies and employ people. This programme gives students
an insight into cash flow, profitability, and marketing all of which are
essential ingredients in running a winning business. Too few people
understand this – and bankers and MPs are some of the worst!". Michael
Fabricant, unusually, ran a business before being elected to Parliament.
He met teams from all over Lichfield and Tamworth including 'Young
Operations' from the Friary School in Lichfield. They organise parties
and other events for their clients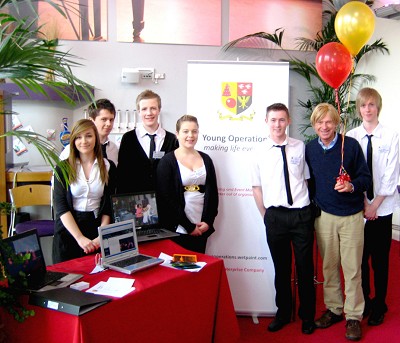 Photograph shows Michael with the 'Young Operations' team (l to r):
Lauren Southam (16), Michael Steventon (17), Thomas Leach (17), Eloise
Cook (16), James Liddiard (16), Michael Fabricant, and Daniel-Sean
Huisman (16).