On 28th February 2009
King Edward VI School, Lichfield, took the honours in the 15th annual Michael Fabricant-Arthur Price of England Public Speaking Awards last night at The Guildhall in Lichfield (Friday 27th February 2009). The School took both the winning team award and Holly Youlden (17) won 'Best Individual Speech' award. The other two members of the winning team were Robbie Beck (16) and Jessica Lobo (17). All three won silver cups and certificates and have been invited down to the House of Commons to meet Michael Fabricant again and see Prime Minister's Question Time.
The Motion debated was "That this House believes that celebrity culture and reality TV unduly influence the aspirations of young people".
Three other teams took part from Chase Terrace Technology College, Chasetown Specialist Sports College, and The Friary School. The Judging Panel were Cllr Mrs Norma Bacon (Sheriff of Lichfield), Martin Anker (President of the Rotary Club of Lichfield St Chad), Simon Price (Managing Director of Arthur Price of England), Cllr Terry Thomas (Deputy Mayor of Lichfield), and Peter Young (Town Clerk of Lichfield). This year, the Mayor of Lichfield (Cllr Mark Warfield) who welcomed the teams to the Competition could not be a judge as he is a teacher at Chasetown College. Michael Fabricant acted as 'Mister Speaker' for the evening.
"All the schools taking part were excellent, but we definitely had a 'David Cameron' moment when Robbie Beck of King Edward's stepped away from the podium to address the audience from the stage" says Michael Fabricant who was not one of the judges. "The Team argued well that young people are not naïve and are most certainly not influenced by celebrity culture and the goings on in the Big Brother house and similar. I am proud of them all and look forward to meeting Robbie, Holly, and Jessica again down in Westminster." Michael revealed last night that he had been asked to take part in a Big Brother series some years back "but having seen the subsequent antics of George Galloway, I am glad that for once I had used some discretion and refused to appear".
Photo 1 shows left to right: Simon Price, Robbie Beck (16), Holly Youlden (17), Jessica Lobo (17), and Michael Fabricant MP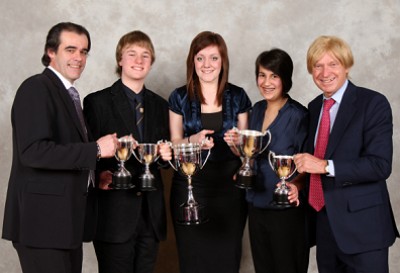 Photo 2 shows left to right (back row): Simon Price, Robbie Beck (16), Holly Youlden (17), Jessica Lobo (17), and Michael Fabricant MP; (front row) Cllr Norma Bacon (Sheriff), Cllr Mark Warfield (Mayor), Cllr Terry Thomas (Deputy Mayor), and Peter Young (Town Clerk)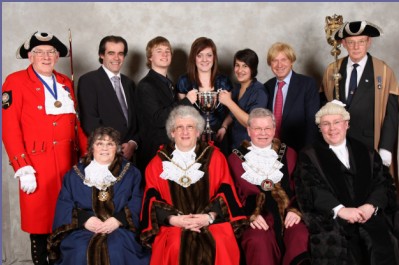 Photos by Robert Yardley Photography www.ryphotography.com