On 31st January 2009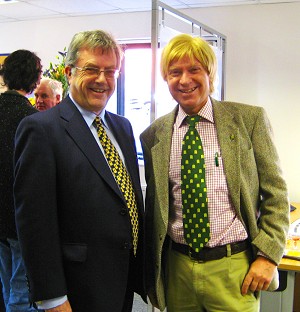 Michael Fabricant opened the new offices of the National Farmers' Union
in Burntwood at lunchtime today (Saturday 31st January). In his opening
remarks, Michael said: "The NFU is over 100 years old and it seems as
if the offices in Market Street in Lichfield have been there as long.
In fact it has been over 40 years. But the offices were getting cramped
and it was difficult to park. These new offices are 50% larger and
although they don't overlook a cobbled street, there is an exclusive car
park now for NFU customers. So Lichfield's loss is Burntwood's gain and
I hope these new offices – which I open in very troubled times – will
last a further 40 years."
Over 60 farmers and NFU customers attended the opening and buffet
reception at the offices in Cobbett Road in Burntwood
Photograph shows Derek Loweth, Chief Executive of NFU Lichfield (left) with Michael Fabricant at the Opening.