On 29th January 2009
Michael Fabricant met up with Member of the Youth Parliament, James Greenhalgh, 18, in the House of Commons yesterday (Wednesday 29th January) to celebrate James' award. James, who lives in Alrewas and in Michael's constituency, won the UK Youth Parliament Award for Campaigns. Meanwhile Joe Sullivan, 16, from Leek in Staffordshire won the prestigious Andrew Rowe Award for Outstanding Achievement. Andrew Rowe who helped form the Youth Parliament is the late Conservative MP for Mid Kent.
Michael Fabricant says: "I was delighted that of the four national awards that were given, two were for members of the Staffordshire Youth Parliament. I sometimes think that Staffordshire is a somewhat forgotten County despite my best endeavours, but if this new generation of Parliamentarians is anything to go by – watch out, the rest of the country!
"The UK Youth Parliament is an excellent way of getting youngsters engaged in politics and I am pleased to be able to support it".
The MWH UK Youth Parliament Awards are designed to recognise the outstanding achievements of Youth Parliamentarians in various fields. The awards ceremony took place at the House of Commons on Wednesday 28th January.
The winners of the Awards were:-
Campaigns Award – James Greenhalgh (18) Member of Youth Parliament, Staffordshire
Andrew Rowe Award for Outstanding Achievement – Joe Sullivan (16) Member of Youth Parliament, Staffordshire
Community Engagement Award – Jack Gebhard (15) Member of Youth Parliament, Northumberland
Press and Media Award – Jacob Rix (16) Member of Youth Parliament, Norfolk
The awards are sponsored by the environmental engineering consultancy MWH.
Andy Hamflett, Chief Executive of the UK Youth Parliament, commented: "At a time when young people are subject to unprecedented levels of negative coverage, it is an honour to be able to celebrate the talents and achievements of those who work so incredibly hard for their communities through their work at the UK Youth Parliament."
Sarah Grimwood who manages MWH's sponsorship of the UK Youth Parliament says: "We sponsor the UKYP because we strongly believe in the positive effects and influence of the work of the UKYP and its MYPs. You don't have to work with them for long to see that these dynamic young people are destined to be our future politicians, scientists and engineers.
"We created these awards with the UKYP to actively promote some of their many achievements and successes and to redress the bad press that young people all too often receive. It was not easy to select the award finalists, as in a sense all the MYPs are winners, but today we would like to congratulate those chosen, thank them for their commitment and ask them to keep up their inspirational work."
Over 600,000 young people take part in the UK Youth Parliament elections each year and 600 young people are elected as Members of the UK Youth Parliament. They work to ensure that the voices of young people are heard at a national, regional and local level. For further details please refer to www.ukyouthparliament.org.uk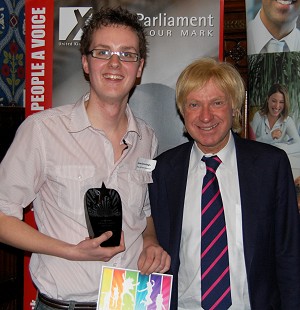 Photograph shows Michael Fabricant with James Greenhalgh taken at Wednesday's award ceremony in the House of Commons.