On 31st October 2008
Over 200 guests came to hear George Osborne speak at the Lichfield
Conservatives Annual Dinner held at Drayton Manor last night (Friday
30th October). George told guests that Conservatives would defer VAT
payments for hard pressed business, control business rates, and reduce
National Insurance for smaller firms to help tide them over the present
financial difficulties. He said: "While Australia, Sweden, and other
countries saved wealth in the good times so are able to offer tax cuts
in the current recession, Gordon Brown spent it all. The coffers are
bare and we now pay the highest tax ever in peacetime. Gordon Brown
actually believed what he often said – that there would be no more
return to boom and bust – and now, unlike other countries, we have
nothing in reserve."
Cllr Tony Thompson, Chairman of Lichfield Conservatives introduced
George Osborne while Michael Fabricant gave a vote of thanks. Three
prospective candidates were present: Christopher Pincher from Tamworth,
Christopher Kelly from Dudley, and Anthea McIntyre who will be standing
in the European Elections next year.
"It was a great evening" says Michael Fabricant. "George answered a
whole series of penetrating questions on the economy. He talked about
proposals that will be offered to help hard pressed pensioners. Nobody
asked about luxury yachts."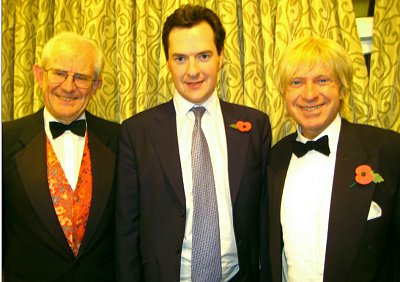 Photograph shows, left to right: Cllr Tony Thompson, George Osborne,
and Michael Fabricant.