On 24th September 2008
Conservative students signed up just over 100 new members to Aberystwyth
University's Conservative Future group – Aber CF – at the Freshers' Fair
held on Wednesday 24th September.
Michael Fabricant MP, who joined students at the Fair, says: "The
response was fantastic! I am told it's the best ever. New students
from all over the country were queuing up to join Conservative Future
and pay their membership subscriptions. It was a wonderful response and
an eye opener to me. The students certainly hadn't been won over by
Gordon Brown's conference speech of the previous day!
"I was hugely impressed with the stand layout, the posters and
give-aways which included memory-sticks, chocolates, and that essential
tool for students: bottle-openers. And the petition organised by 'Aber
CF' against the proposal to ban under-21 drinking in Aberystwyth got
even more signatures.
"The CF students can be very proud of their highly successful day and
the way they organised it" adds Michael. "It makes me wish I was back
at uni again!".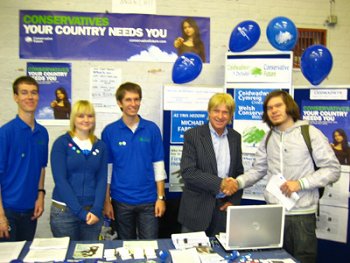 Photograph shows Michael Fabricant signing up a new member, left to
right:- Jason Edwards (Aber CF Deputy Chair, Political), Laura Duffin
(Aber CF Member), David Cogdell (Aber CF Treasurer), Michael Fabricant,
and new Aber CF Member: Sam Taylor who is studying History and French.