On 4th September 2008
Michael Fabricant was out for 3½ hours on Police Cycle Patrol in North Lichfield on Friday 4th September when he joined PC Dave Smith and PCSO Maggie Griffiths on a tour of duty.
"It was a valuable experience" says Michael. "We cycled out from the police station at Frog Lane Lichfield visiting the Dimbles and All Saints areas in North Lichfield. I had a chance to speak with locals and had an interesting chat with Steve Crawford who manages the Martin's Newsagents in the Dimbles about local issues. It also gave me a chance to learn more about the North Lichfield Initiative.
"Cycle patrols really do seem a good compromise between having the speed of a patrol car and the accessibility of the 'bobby on the beat'. And they are environmentally friendly.
"I was particularly interested in people's reaction to Maggie as a Police Community Support Officer. Although I was originally very sceptical about the rôle of PCSO's and took the view that David Blunkett, the then Home Secretary, was just providing extra policing on the cheap, it is clear that some local people feel more comfortable talking to a PCSO than a fully fledged police officer. PCSO's can often gain useful intelligence which might be more difficult for a PC to obtain.
"This is something I will want to do again. And it has also convinced me I need to buy a bike" Michael adds.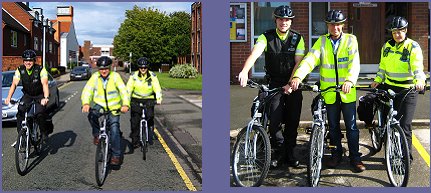 Photographs show (left to right) PC Dave Smith, Michael Fabricant, and PCSO Maggie Griffiths setting out on patrol from Lichfield Police Station.