On 2nd September 2008
Michael Fabricant will be meeting angry residents in Abbots Bromley on Friday 5th September over a "forest of inappropriate lamp posts that have just been 'planted' in the beautiful village of Abbots Bromley" – as Michael Fabricant puts it.
Michael adds: "These lights are wholly out of keeping with an ancient village green in the middle of an official conservation area. Instead of tasteful lanterns which would also meet highways regulations, the County Council have installed lamps more suitable for the M6 motorway. Moreover, there is also some doubt as to whether the Labour controlled Council legally performed their duties in informing local residents of their plans. This is so typical of the County blundering once again into people's lives."
Michael will be meeting local residents Meg Hewitt and David Austin in Abbots Bromley.
They say in a letter:-
"We have been besieged with angry residents urging us to take collective action on their behalf against the imposition of 21st Century modern aluminium lighting poles straight across a Centuries old Village Green.
"Abbots Bromley Village Green and Market Place is in the middle of a Conservation Area and is promoted by both the County and Borough Councils as being a village of special interest and beauty. In fact the Village Green also contains an English Heritage scheduled ancient monument in the Butter Cross dating from the 1300's. The Village Green frequently features in television programmes both nationally and worldwide as an example of English life, tradition, conservation and heritage. On the 13th August 2008 contractors nominated by Staffordshire County Council started to erect on the Crown Bank side of the Village Green/Market Place itself, huge grotesque lamp columns, reminiscent of lighting used upon a motorway service area. The planting of this incongruous street lighting furniture completely ruins the look and conservation of our Village Green and spoils the entire centre of this ancient village. It is a blight on a formerly unblemished piece of grass that has for years been part of the unspoilt look of the village that has won many awards and travel and tourism accolades and in itself breaches item 5.7 of the Infrastructure Guidelines of the March 2007 Village Design Statement.
"No written notice was given to residents living around or in close proximity to the Village Green by either the County or the Parish Council except that in the Abbots Bromley Parish Council's Annual Report of June 2008 it was said regarding the lighting project that "The upgrade will include the installation of four new columns on and around the Crown Bank." Interestingly, everyone assumed that these columns would be, as they should be, installed as close to existing buildings as is possible and not implanted on the Village Green itself. Similarly, we were told that Staffordshire County Council "has agreed to provide additional funding to allow more ornate painted columns to be used, rather than the standard galvanised columns". Having only today received photographs of the column embellishments and the lamps themselves (to be painted black!) we are horrified to see that the proposals are incongruous and hideous and in no way are sympathetic or ameliorative to an ancient Village Green or to national standards. Similarly, the newly installed generic lighting is not as Martin Beavis of Staffordshire County Council claims, i.e. that his Council "agreed to fund, at great expense, special columns and lanterns that are more sympathetic in helping maintain the aesthetic look of the village" they are in fact cheap in appearance in comparison to many other local Staffordshire villages, but more importantly ride roughshod, contrary to infrastructure guidelines across one of the Counties most high profile and important Conservation Areas.
"We are aware that street lighting on adopted highways has to meet national standards and additionally that Staffordshire County Council has its own codes of practice relating to the provision of street lighting and other street furniture. It has however failed to consider all the other important environmental considerations that it is obliged by law to take into account."
Michael says "I share their concern and will be taking the matter up with County Highways once I have had the meeting".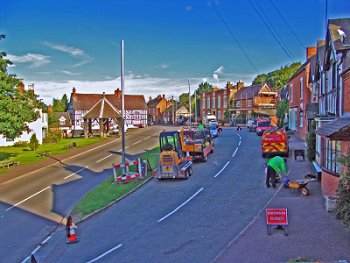 Photograph shows the lights under construction by the 14th Century Butter Cross.