On 6th June 2008
Michael Fabricant was today (Friday 6th June) presented with the book
'Fair City – One Community's Fairtrade Campaign' by its author, Warren
Bardsley, for the part Michael played in helping Lichfield to become a
Fairtrade City.
"I used to work in developing countries before I became an MP and I
witnessed the exploitation of farmers and labourers by large
multinationals. I was honoured to be asked to play a small part in the
Fairtrade Movement and help make Lichfield a Fairtrade City. We have a
long history of social justice in our City and many famous Lichfeldians
played their part 200 years ago in abolishing slavery. This is but one
further step forward on the long road to emancipation. I understand
that any profits from the book will go to Fairtrade charities" says
Michael Fabricant. Lichfield became a Fairtrade City on the 8th March
2008.
Michael adds: "Fairtrade is a growing movement. National sales of
Fairtrade products rose by 80% in 2007 over 2006 and 70% of people in
the UK now recognise the Fairtrade brand."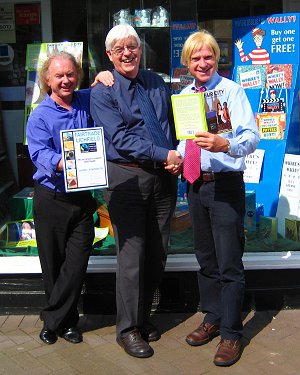 Photograph shows Michael receiving 'Fair City' outside James Redshaw bookshop from where it can be bought. Left to right: Steve Cooper (Owner of James Redshaw Bookshop), Warren Bardsley, and Michael
Fabricant.